November 2018 Toilet Times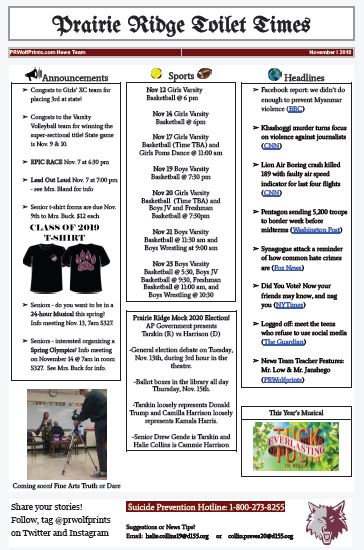 Hang on for a minute...we're trying to find some more stories you might like.
Students in AP Government will present a 2020 mock election next week. The general election debate featuring senior Drew Gende as Tarskin (R) vs. Halie Collins as Harrison (D) will be on Tuesday, Nov. 13th, during 3rd hour in the theater. Vote using the ballot boxes in the library all day Thursday, Nov. 15th. Be prepared to see Tarskin loosely representing Donald Trump and Camilla Harrison loosely representing Kamala Harris.
Other news headlines included in this print edition:
Facebook report: we didn't do enough to prevent Myanmar violence (BBC)
Khashoggi murder turns focus on violence against journalists (CNN)
Lion Air Boeing crash killed 189 with faulty air speed indicator for last four flights  (CNN)
Pentagon sending 5,200 troops to border week before midterms (Washington Post)
Synagogue attack a reminder of how common hate crimes are (Fox News)
Did You Vote? Now your friends may know, and nag you (NYTimes)
Logged off: meet the teens who refuse to use social media (The Guardian)
News Team Teacher Features: Mr. Low & Mr. Janshego (PRWolfprints)