TLDW – D155 January School Board Meeting
Each month District 155 hosts a public school board meeting when members of the public are given a space to speak to the school board and district admins give reports about different aspects of the district. Presented here is a brief overview of the January 18, 2022, board meeting. (The video of the meeting is publicly available; the beginning of each section below is hyperlinked to the responding timestamp in the video.)
The goal of this news team synopsis is to make the information discussed at these meetings more convenient and demystify what takes place at these monthly meetings.
The session began with four community members speaking.
Laura Smith expressed disagreement with the district applying for ARP ESSER funds, particularly in regards to any efforts which would lead to vaccinations for students.
Kim Morris read an excerpt from the historical fiction novel The Guardian by Julius Lester. Due to the content of the particular passage, board members interrupted, with one asking "are you done with the N-word in your diatribe."
Theodore Sheu spoke on the pandemic's impact on teens' mental health, the loss of traditional values and undermining of Judeo-Christian values. He also expressed annoyance with the district not alerting parents of transgender students or inquires, over sexualization of sex education, and improper literature available to students.
Kathy Goerges discussed HHS's upcoming COVID reporting change on Feb. 2nd and asked the board and others listening to look into the statistics and reflect on the difference between 'with' vs. 'for' COVID. 
After the speakers the leaders of finance, operations, and human resources gave their reports.
Dr. Kevin Werner submitted a finance report, including the following:
ESSER

application approved by the board.

A good yield and increase from investments for the 4th quarter of 2021

9.3 million of spending approved for the next school year

PRHS Adventure Club approved
The Operations report by Director of Operations Troy Stinger included approval for 7.9 million for 2022 capital improvement projects.
Human resources Report by Assistant Superintendent Jay Sargeant:
Prairie Ridge social studies teacher Mr. Joe Terhaar welcomed into administration as International Studies Division Leader for next school year. "He's gonna do great things," Mr. Sergeant said.
Ryan Slattery was also promoted to a Cary-Grove dean position.
Other recognitions noted during the meeting included:
D155 para-basketball team qualified for state

Crystal Lake South's principal won the regional Principal of the Year award
The next District 155 school board meeting will be held on February 15 at 7:00 pm in the library at Cary-Grove High School.
Leave a Comment
About the Contributor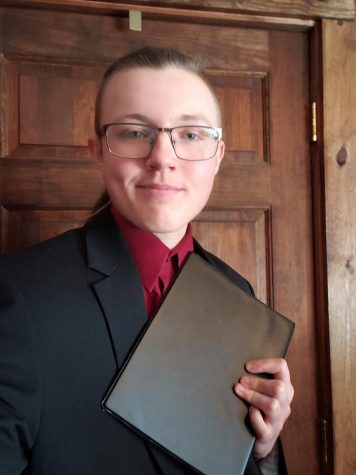 Limb'rin Ostergaard, Public Relations/Multimedia Manager
Limb'rin is the editor and cinematographer for primarily The Howl but also works with many others on the team to create the best possible multimedia content...