This Day Has Finally Come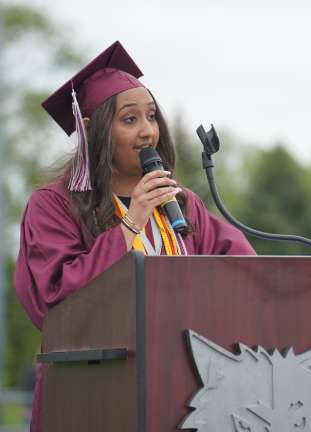 Heli Patel delivered this speech at graduation on Saturday, May 13, 2023.
---
First and foremost, congratulations to the class of 2023, who has committed to every challenge and embraced every hurdle along the way. Welcome to the friends and families who have stood by our sides every day. Thank you to the teachers and administration who willingly took each opportunity to mentor us. Today, we have achieved a remarkable milestone and we will see many uplifting smiles and tears of joy because this day has finally come.
1,368 days ago, we all first walked through the doors of Prairie Ridge, hoping to fit in and aiming for the best in ourselves. Numerous memories have been made since that day, some good and some bad, but we shall always look back and embrace these moments. Like many others here today, I, too, complained A LOT. As I would set the alarm each night, I would complain about waking up. As I would come home, I would complain about completing my assignments. As I would write my name on the top of a test, I would complain about failing. But, somewhere amidst the complaints and criticism, I began to fall in love with this high school life. I began to dedicate time to clubs that I cared about. I began to make friends that would stay by my side till this day. I began to love high school. Those complaints made me prepare for the future and those attachments made me understand the true purpose of life. Today, I've come to the realization that maybe everything does happen for a reason.
As I share this heart-warming moment with you, I would like to recall the great words of Martin Luther King Jr.: "Darkness can not drive out darkness; only light can do that. Hate cannot drive out hate; only love can do that." Today, I advise you all to be the light, to be the love that will enable you along your path to success. PR has taught us how to love, respect, care, and honor individuals regardless of their differences. We all have had our ups and downs, highs and lows, yet as students of Prairie Ridge, we all have received the same morals and values that have allowed us to succeed and maintain unity
From Friday spirit days to football games, these traditions held us together. From failing a test to answering a question correctly in class, the satisfaction held us together. From sitting at a lunch table to going out for lunch, these responsibilities held us together. From freshmen to seniors, this journey continues to hold us together. A culture to define the unity that still inspires us. The future is scary, but the recollection of high school intends to lead to a successful start in a new chapter in our lives. An end to all of our firsts and a start to all of our lasts. No one has seen tomorrow, so it may not turn out to be the way you have envisioned it, but this journey has taught you how to move forward. Remember that this is the path of life where every turn isn't easy and every turn might not bring happiness, but at the end of the path, there is always a destination. Move on with a new ray of hope that assures you that everything will be okay. So remember to be the light, be the love, be the change because this day has finally come. Thank you.
Leave a Comment