Growing Elation for the Environment
The newly minted environmental club at Prairie Ridge, founded by Arya Aitipamula and Sophia Anderson and sponsored by Mrs. Passaglia, gives students an opportunity to learn about careers involving the environment and the local impact of our environmental decisions. 
The Prairie Ridge seniors founded this club at the end of last year. "We felt that the PR community wasn't allocating enough time and resources towards environmental concerns," said Arya.
Anderson and Aitipamula proposed the idea of the environmental club at the end of last school year. Arya explained the clubs' goals: "Educating people about the environment, helping our community's environment, and giving resources to those interested in pursuing environmental careers." 
They've already begun a strong foundation for this club by creating volunteer opportunities in Crystal Lake to help save the environment.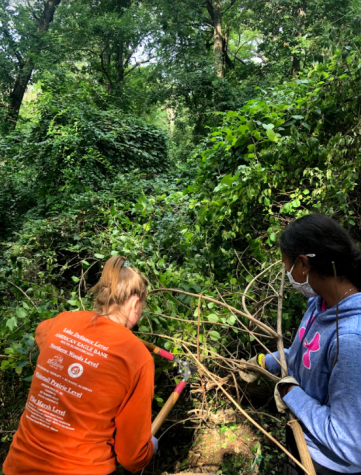 This past Saturday, September 4th, they organized a cleanup of invasive species, such as wild grapevine, at Veteran Acres. The club cleaned and cut branches that were harming the ecosystem there. 
This is the first of many opportunities they have planned to support the environment. "Taking trips to laboratories and exploring their facilities, speaking with environmental chemists, microbiologists, and marine biologists" are other events being planned to support the local environment.
Club presidents Arya and Sophia provided some examples of how the student body can help preserve Prairie Ridge's natural environment and Crystal Lake's local environment. These include, "eliminating single-use plastic, cutting back on plastic/single-use silverware, styrofoam plates, or red solo cups, since many of those plastics aren't easily recycled or able to be converted into other items after being thrown away, taking recycling seriously, learning about composting, being aware of your surroundings, and picking up litter." 
The Environment Club is giving the student body a new opportunity to improve both climate and the world one step at a time.
Leave a Comment