How Freshman Year Has Been So Far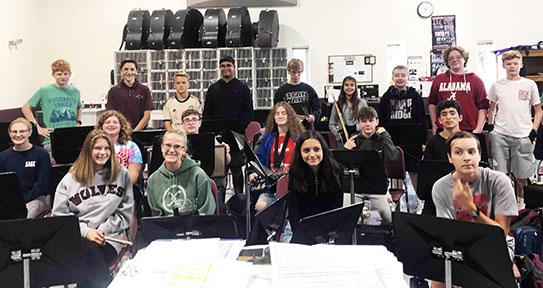 Hang on for a minute...we're trying to find some more stories you might like.
It's a big change. Middle schoolers going into high school becoming freshmen, adjusting to a new high school life. Here are quotes from new PR freshmen about how their first year of high school has been so far.
In German with Herr Higgins, Ethan Braun said, "I really enjoy German and learning similarities between German language and English."  
Two  students in 2nd period Band agree high school has more options. Roberto Cardenas says he likes freshman year so far because there is "more opportunity and more clubs [where he can] find more friends." Spencer Raver said this year has been a "good opportunity to express myself." 
Students report that having friends and helpful people around make high school better. Gabriella Faia said freshman year has been "good so far because I have friends in most of my classes." Kalyn Rutherford said, "I can find my class and people are helpful."  And finally, Tommy May likes that "you get to meet new people."
Many of the freshmen interviewed believe high school is way better than middle school. Connor Benham said this is true because there is "way more freedom and more choices." Aidan Brewis also said, "I enjoy the freedom. Unlike middle school, we are more on our own and have more privileges." Another reason high school is better than middle school is "shorter classes [and] more fun classes," according to Riley Flanigan, who also said another plus is "how we get to use our phones in the hallway."