100 Days: Congress in Progress
Following a hectic election year and an equally stressful inauguration, the newly elected 117th Congress came into session marking both a new fiscal year and new political majorities. With that being said, here is what Congress has been up to through President Biden's first 100 days.
Biden's Policy Agenda
Upon entry to the White House Biden set into motion his new policy with the signing of 15 executive orders, more than have ever been signed by any president to date in U.S. history. They addressed issues he expressed were vital to accomplish on day one following up on his campaign promises. Issues such as: 
Protecting public health and the environment, along with restoring science to tackle the climate crisis

Racial equality and support for under served communities 

Revisions of civil immigration enforcement policies and priorities Including the controversial

Muslim Travel Ban

Protecting federal workers by mandating a mandatory mask policy on federal land and property 

Establishing further protections and preparations pertaining to COVID-19 and the pandemic
Biden also began work on addressing major issues, first among them the pandemic relief package aptly named The American Rescue Plan. 
The bill addressed many issues which had either been long neglected or left in gridlock from the prior Congress or were soon to expire. At a whopping $1.9 trillion dollars, it proved to be a challenging pill for many lawmakers to swallow, leading to continued negotiations on amendments to allow for passage. Drawing the ire of more progressive members of Congress, a ruling from the Senate parliamentarian shut down the possibility of raising the minimum wage to $15 an hour incrementally over 5 years. In the end it passed with a very narrow majority passing the Senate chamber with a special senatorial tool called "budget reconciliation." 
House: 218-212 (initial bill passed)
Senate: 51-50 [Kamala Harris tie breaking vote] (amended bill passed)
House: 219-209 (amended bill passed)
After the successful passage of the American Rescue Plan, Biden sought next to target the elusively shifting but unifying topic of infrastructure.
The American Jobs Plan addresses Biden's major promises of reinvesting in America's crumbling infrastructure, creating new green jobs in a changing economy shifting. The plan addresses the impacts of global climate change, inequality, and accessibility to housing. All of this will mount to a price tag of over $2 trillion; however, Biden has stated it will be paid off by many of the projects' self-generated income and higher corporate taxes from 21% to 28%. 
Currently with negotiations in progress, it's likely the bill won't see a final vote on the floor until summer. However, even with the paper thin majority and much opposition, including from moderate Democrats, Biden's plan may still have hope with recent approval from the Senate parliamentarian who stated the possibility to use budget reconciliation more than once. 
The fate of American infrastructure and Biden's continued agenda remains unknown. 
Voting Rights
A tumultuous election year and continued conspiracy thinking has left many Americans questioning the nation's voting integrity. 
In response to charges of voter fraud, many states enacted new voting laws. However, Democrats have called the new laws restrictive and have called out the fraud claims as baseless, following many unsuccessful court and civil battles.
Georgia proved to be a formidable battleground state in the 2020 election, resulting in Republican charges of voter fraud. The Election Integrity Act inspired backlash from the state's major businesses and even the MLB league, which moved games out of the state in protest. 
Whereas individual states are passing laws to reduce voter turnout, at the federal level, the House of Representatives recently passed the For the People Act, with sweeping changes that encourage voter turnout. This law passed with a margin of 220-210. At the time of this post, the bill is on the Senate floor for deliberation. 
LGBTQIA+ Equality
With major support among the American populous, The Equality Act passed the House with the endorsement of The U.S. Supreme Court in a recent ruling officially stating the language of the Civil Rights Act of 1964 protects people of the LGBTQIA+ community in terms of jobs and other protections. 
This marks a major victory for long time advocates of the community and its members, including a growing number of Gen Z, who now stand protected from discrimination, by law, without question.
In contrast, this year has also seen a rise of anti-trans bills that have since been signed into law in numerous states stripping transgender citizens of their rights to perform in sports, especially school teams, and strips transgender minors from getting puberty blockers and gender-affirming surgery or aquiring proper medical care. Opponents warn of potential increases in suicide among an already high risk population. 
The conservative Arkansas SAFE Act (Save Adolescents From Experimentation Act) ran into opposition within party lines, with Governor Asa Hutchenson vetoing the state's legislature, stating: "This is a vast government overreach." However, his veto was overridden by the state's legislature shortly thereafter. 
Gun and Policing Reform
In 2021 mass shootings and gun violence continue to dominate news cycles. 
The recent shooting in Atlanta with a toll of 8 victims and a brutal massacre in Boulder with a toll of 10, among too many others, have left the nation reeling and pushing for new gun reforms. 
The House passed The Bipartisan Background Checks Act of 2021, expanding background checks for individuals purchasing firearms, and closure of the notorious "Charleston Loophole." With a margin of 227-203, the bill passed and awaits the Senate's vote for approval. 
In addition, a major bill for police reform came in the George Floyd Justice in Policing Act, passing with a vote of 220-212. Named in honor of George Floyd who died in police custody during 2020, the bill bans choke holds and no-knock warrants in drug cases, and it reforms qualified immunity, making it easier to pursue claims against officers in civil courts. 
The recent verdict against former officer Derek Chauvin–with the jury convicting him of all 3 counts of 2nd degree unintentional murder, 2nd degree manslaughter, and 3rd degree murder–left Floyd's family and many Americans relieved. 
Additionally, the 3 other officers at the scene of Floyd's death will see trial this coming summer. 
Racial Equality and Immigration
In the wake of the pandemic, Asian and Pacific Islander hate crime had risen in all states, with shocking numbers in certain cities like New York City which saw a rise by 1900%. 
The STOP Anti-AAPI hate movement led major protests throughout the early spring, especially after the targeted mass shootings in Atlanta which killed 8 victims, 6 of whom were of Asian-American descent. In response, the House and Senate passed the COVID-19 Hate Crimes Act with vast bi-partisan support to allow for more accessibility to report hate crimes. In the Senate the bill passed with an overwhelming vote of 94-1, with Senator Josh Hawley as the lone "no" vote. 
Border states are in crisis with many immigration centers overflowing since Biden's reversal of former President Trump's controversial Child Separation Policy. Politicians on both sides of the aisle continue to blame opposing policies, while humanitarian aid to Guatemala, Honduras, and El Salvador will be one way Vice President Harris addresses the causes for so many Central Americans migrating north. 
In March, the House passed The American Dream and Promise Act, giving hope to DREAM-ers, undocumented immigrants whom were brought to the U.S. as children, for a potential path to citizenship. The bill also features a potential path for those with temporary protected status. The bill passed with a vote of 228-197. It now awaits deliberation and passage from the Senate.
Overall, an avalanche of executive and legislative activity between the White House and Congress has set a progressive tone and rapid pace for the year. Whether President Biden and the democratic legislature can continue this pace will ultimately depend on the upcoming midterm election in 2022.
Leave a Comment
About the Contributor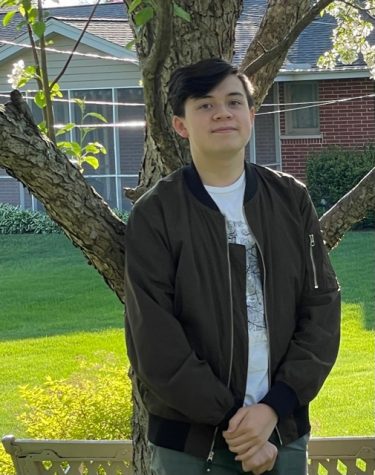 Alex Gordon, Staff Writer
Alex (Xan) has been on news team for four years. He writes primarily about national and global news but also works and collaborates with other writers...