AAPI Hate and Calls for It to End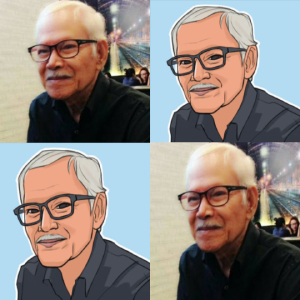 January, 1, 2020. Times Square, New York, U.S.A, Americans nationwide rejoiced in the New Year with hope of a brighter future to celebrate the new decade.
January, 1, 2020. Wuhan, China, Chinese nationals nationwide rejoiced in the New Year with hope of a brighter future to celebrate the new decade.
10 days later in Wuhan state hospital, in Wuhan, China: a 61-year old man dies of a virus of unknown origin, as similar respiratory cases surge following the holiday. He is proclaimed the first recorded COVID-19 death. 
By March 2020: The novel coronavirus has spread across all 50 states, the District of Columbia and has spread globally in one of the worst pandemics in human history.
Following the proclaimed state-of-emergency, anti-Asian hate crimes skyrocketed 145% in 2020, totalling over 3,800, compared to the last year in Major cities nationwide, and in some cities such as New York City, alone, reported incidences rose 1900%, and cases continued as the year ended. Unfortunately, this isn't news for many Asian American Pacific Islander (AAPI) Americans who have experienced a long and arduous history of racism despite their efforts to assimilate into perceived American culture. 
Despite the increasing levels of crimes against the AAPI community, these cases generally go unreported because it is difficult to prove any potential racial motive.
WORDS MATTER
Former President Trump saw backlash for his response to the pandemic and drew ire for naming the virus: "China-virus."  Studies have shown a rise in anti-Asian sentiment since the introduction of his infamous term. In order to gather some statistics and learn what PR students understand about the anti-Asian hate movement, news team conducted a research survey last month.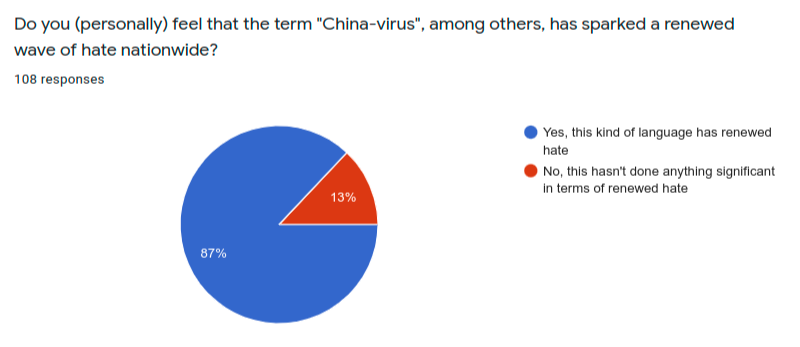 The responses demonstrate that PR students are not only aware of AAPI hate but also widely believe it's connected to terms such as "China-virus."
These tragedies sparked from Asian hate should not be a surprise. Asians, since the start of the pandemic, have received an alarmingly high percent increase in hate crimes. They have been a target from the accusations for starting the pandemic despite that theory being debunked." ~Victoria Daszynski (Jr.)
RECENT ATTACK
March, 16, 2021, Atlanta, Georgia; 5 days after the anniversary of the U.S. COIVD-19 shutdown, Robert Aaron Long, 21,  proceeded to open fire on victims inside at three different massage spas within the Atlanta area.
Victims included Soon Chung Park, Hyun Jung Grant, Suncha Kim, Yong Ae Yue, Delaina Ashley Yuan, Xiaojie Tan, Daoyou Feng, and Paul Andre Micheals all between the ages 33 to 74. 6 victims were of Asian descent. 7 of the victims were women. "He shot at everyone he saw" survivor Eun Ja Kang stated to NBC after the massacre. "I don't know if I should be glad. It hurts to be alive and talk about this." 
HARMFUL STEREOTYPES
There have been calls for justice not just in the AAPI community but also for women following the recent fatalities in Atlanta. With March representing Women's month, many mourn the losses of these women and for their families. Kaitlyn Walls (Sr.) explains why more conversation is necessary. "In regards to perception of Asian women and its relevancy to the rise in hate: Asian women are fetishized, creating harmful and racist stereotypes like 'Asian women are submissive and quiet, we must save them.' In some minds, Asian women exist as sex symbols, not for empowerment, but for control. These issues are interconnected and should be discussed more often."
Proceeding the violent events of March 16th, the Stop AAPI Hate movement had begun to see momentum soar after a year of strenuous tension and countless incidents, such as the murder of 84-year old Vicha Ratanapakdee, occurring in major cities and numerous states ranging from verbal and physical harassment to manslaughter and homicide
Outrage grew with the recent shooting, the movement and others calling out the preemptive homicide as having clear intentions toward targeting Asian women. Cherokee County Sheriff's Captain Jay Baker also faced scrutiny after, what the movement called downplaying the events and labeling the suspect as "having a really bad day and this is what he did" and informing in his announcement that the suspect had an alleged "sex-addiction" which led to his actions.
Captain Baker was later relieved of his post as head spokesman for the investigation after online posts and merchandise from the officer showed his connection with anti-Asian sentiment.
Stop AAPI Hate, a nonprofit grassroots consortium formed in 2020 following various accounts of hate crimes and violence against members of the AAPI community began trending on multiple mediums and sparked a mission to secure justice and equality for their community and communities of color. With the support of people, following the attacks and recent attention to the movement, Stop AAPI Hate and local Asian American and Pacific Islander communities saw their opportunity to make a difference and use their voices.
Prior to the pandemic and the Stop AAPI Movement, many have called out the lack of media coverage of Asian Americans and Pacific Islander issues.
Abbie Moritz, PR junior, identifies how media portrayals of Asian Americans and systemic racism both compromise personal safety. "The events on Tuesday were absolutely fueled by poor representation of Asian people in not only modern media but also through the past century of harmful stereotyping within films and newspapers. Obviously it's hard to trace an event back to any one specific cause, but America has a history of oppressing Asian people and Tuesday's events show that we need to address our internalized racism as a country as soon as possible in order to ensure the safety of all people."
CALLS FOR ACTION
Both state and the federal governments have made statements and moved for action to be done for Asian Americans and Pacific Islanders. President Biden along with Vice President Kamala Harris visited Atlanta and publicly denounced hate and acts of violence against the AAPI community. Biden stated "Hate can have no safe harbor in America." President Biden has also announced a new task force against Anti-Asian hate. The U.S. Justice Department, DOJ, will now track reports of Anti-Asian hate crimes and the Department of Health and Human services will spend $49.5 million in programs for victims of sexual assault in the AAPI community.
Various other public figures and celebrities have also called for justice for Asian Americans and Pacific Islanders. Andrew Yang, previous presidential candidate, entrepreneur, and current gubernatorial candidate for New York, stated, "We need to take this opportunity to let people know that Asian Americans are here to stay." Professional basketball player for the Santa Cruz Warriors, Jeremy Lin says "We are tired of being told we don't face racism. Being told we are a "model minority" or being told our struggles aren't real." Actress Sandra Oh, gave a battle cry, "I Am proud to be Asian!" And Youtuber, artist and entrepreneur with Youtube channel The Try Guys, Eugene Lee Yang made a video discussing the intricate, forgotten history of the Asian American community.
With the recent Atlanta and Colorado shootings, political leaders and citizens once again question whether if gun laws make it too easy for individuals to enact acts of violence against others. Among the respondents to the news team poll, 74% see relevance between guns, gun laws, and/or gun accessibility and the rise in hate.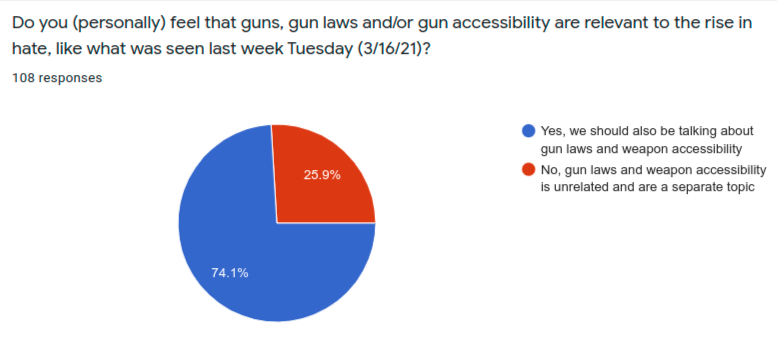 "This shooting really made me think about how Asian people are viewed and how little there is to recognize them." ~Graceann Nelson(Fr.)
"Amend the second amendment!" ~Colin Braun (So.)
Since then peaceful protests supporting Asian Americans have moved out in droves from D.C. New York City, Chicago, Atlanta, Seattle, and San Francisco, bringing further attention on the AAPI community.
Other important responses from our poll (with some names withheld to respect requests for privacy):
"What's going on right now is not new. It's been around since the 1800s and has affected countless innocent Asian lives. There is absolutely no justification for the horrendous acts committed by people who view this world as if it is only theirs. I fear that it's only going to get worse everyday if nothing is done about this."
"I feel women and POC should 100% have their culture issues talked about, we don't see enough of it therefore causing them not get the justice they deserve, it's not MORE respect its equality."
"While I'm glad awareness is being spread, I want to know if any real, concrete change will come from this movement or if it's going to be treated as a fleeting trend that's irrelevant once people stop talking about it." ~Isabella Ariston (Fr.)
With the many challenges we face as a nation, collectively as Americans and as humans, members of Wolf Prints and Diversity & Culture clubs encourage everyone to research and have conversations about AAPI hate. When you see something, say something. And if you witness or experience a crime, report it.
As one PR student wrote, "No one deserves this. All of us deserve justice."
Loading ...
Leave a Comment
About the Contributor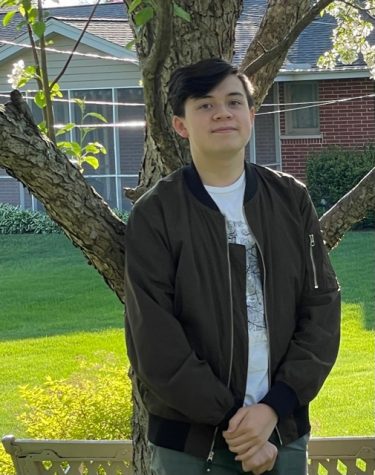 Alex Gordon, Staff Writer
Alex (Xan) has been on news team for four years. He writes primarily about national and global news but also works and collaborates with other writers...