Fall Play Still Life with Iris Opens Tomorrow
Come see this year's PR fall play, Still Life with Iris, this coming Thursday, Friday, and Saturday at 7:00 in our theater — tickets are available at the door and are free for faculty, staff, and their families.
Still Life with Iris, the first play for young audiences to receive the Kennedy Center's Fund for New American Plays Award, is a fantastical adventure which centers on a little girl's search for the simplest of things: home. Iris lives with her mom in the land of Nocturno—a magical place in which the workers make, by night, all of the things we see in the world by day. Also, in Nocturno, memories do not reside in people's minds but instead are kept in their coats (called 'Past Coats'). The rulers of Nocturno, the Great Goods, are determined to have the "best" of everything on their island—and therefore take Iris away from her home and bring her to Great Island to be their daughter. To ease the pain of this separation, they remove her Past Coat, leaving her with no memory of her home or her family. All that remains of Iris' past is a single button from her coat. Using the button as a clue, Iris joins with friends she meets on her journey—Annabel Lee (a young woman from the sea) and Mozart (the composer, age 11)—and frees herself from the Great Goods. She returns to Nocturno, having found her past, and her home.
Come see PR students' creativity on display to put on this funny, playful, and thought-provoking play.
Directors
Daren Dusenske — Director
Aaron Cummins — Set Director
Brenda Brockland – Costume & Props Director
Mike Niemi – Lights & Sound Director
Tim Kennett — Publicity Director
Ramsey El Lethy — Assistant Director
Limb'rin Ostergaard* — Assistant Director
Stage Managers
Ryan Huellen* – Production Stage Manager
David Llanes – Stage Manager
Actors
Elena Akerberg* – Iris
Jacqui Anderson – Ellie
Colin Braun – Third String
Ethan Braun – Mister Matternot
Forrester Faia* – Grotto Good
Catherine Fiedler – Thunder Bottler 2
Emily Heil – Rain Maker
Savannah Horton* – Hazel
Ellie Jensen* – Mozart
Josiah Jensen – Mister Himtoo
Cami Keaty* – Memory Mender, Ray
Emily Kuhn – Flower Painter
Abby Malina* – Gretta Good
Taryn Mangin – Leaf Monitor
Sarah Michalak* – Captain Also
Andalyn Parvin – Thunder Bottler 1
Sage Perkins* – Annabel Lee
Alicia Sosnowski* – Mom/Miss Overlook
Sophie Wright – Bolt Bender
Jonah Zhungu* – Mister Otherguy
Set
Nathan Leali*- Head
Ryan Hahn
Matt Johnson
Alex Sul
Lights/Spots
Ben Sosnowski – Head
Ryan Rauenbuehler Co-head
Sound
Emma Greetham* – Co-head
Zach Scherrer* – Co-head
Sam Gawronski*
Bradley Kuhn
Mathias McMeel
Ellie Scherrer
Costumes
Emma Piotrowski* – Head
Tori Daszynski
Catherine Jimenez
Melanie Jimenez
Kylee McMullin*
Sarah Mercieri*
Arte Ramirez
Kayla Ruhnke*
Makena Winkiel
Makeup
Kayleah Link* – Head
Maddie Ostap
Leyna Weber
Kailyn Chappell
Props
Kailyn Daum
Reagan Georgy
Evelyn Mahler
Clara Ruefer
Sydney Carson
*Denotes membership in International Thespian Society Troupe 7833
Leave a Comment
About the Contributor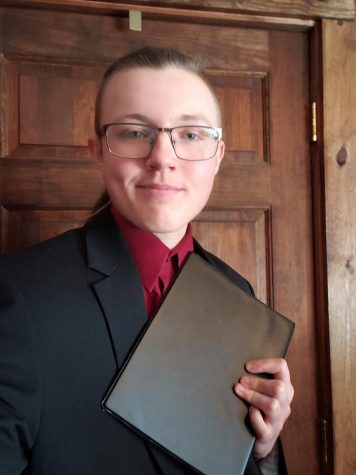 Limb'rin Ostergaard, Public Relations/Multimedia Manager
Limb'rin is the editor and cinematographer for primarily The Howl but also works with many others on the team to create the best possible multimedia content...