Seniors Perform Frozen, 3rd Annual 12-Hour Senior Musical
On Saturday, April 17, 2021, seniors spent all day working on the musical Frozen! Yes….all day! They started rehearsing at 7:00 AM for a 7:00 PM show. It was chaotic and a real flurry of activity, but they pulled it off and everyone involved had a blast!
Although they couldn't invite all of the audience that they wanted, the seniors were able to have a few family members see their performance.
This is the 3rd time that the senior class has attempted a 12-hour musical. Congratulations to the following cast and crew members.
CAST LIST
Young & Middle Elsa – Lauren Roos
Elsa – Sydney Munk
Young & Middle Anna – Molly Ruszkowski
Anna – Carsen Forte
Kristoff – Matt Savas
Hans – Chelsea Gale
Olaf & King – Kenny Bieschke
Sven – Anna Jacoby
Duke of Weselton – Kevin Riedl
Pabbie – Delaney Todd
Bulda – Kaylin Mitchell
Queen & family member 2 & troll 1 & 5 – Brooke Karlblom
Bishop & Townsperson 2 – Jordan Tress
Butler & Townsperson 2 – Francesca Pollock
Cook & Housekeeper & troll 2 & 6 – Hayley Hinkemeyer
Family member 3 & Steward & troll 3 – Emily Brehm
Townsperson 1 & 6 & family member 1 & troll 8 – Brittany Shabino
Townsperson 3 & 5 & Troll 7 – Morgan Maglente
Director – Sam Hemstreet
Choreographer – Morgan Maglente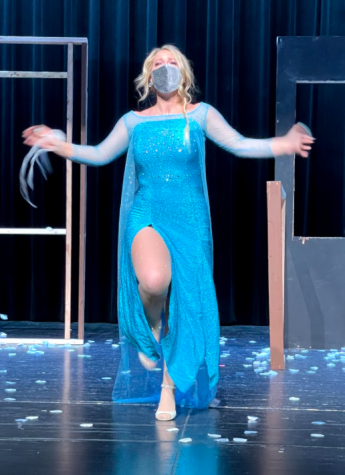 Leave a Comment