Checking Out Colleges During COVID
As we draw closer to the end of the college application process, it's times like these where I have to question if this process is truly worth it in the long run. 
When COVID-19 hit in March, we all thought we'd be back in two weeks, but as the SAT got pushed back months later and colleges started shutting down, we knew the application process was going to be a beast to overcome. Oh what a piece of work is COVID-19. 
From personal experience, the first place I started was setting up the accounts and asking for letters of recommendation. If I'm being honest,  I was completely lost for a few weeks and the only reason I knew how to navigate this clunky maze was because my brother had applied a few years earlier. 
I asked my classmates to see how their process went from August to now. 
Anna Jacoby said "the process was long and time consuming with lots of research and reading" while Alex Gordon said it was "very challenging and confusing [..] we lacked the info we needed to prep for college apps that should've [been prepped] and ready for over the summer. I felt like I didn't have a lot of time to think it through as much as I wanted to." 
Many comments indicated that Junior Seminar was not helpful in regards to college prep, and the fact that the college advisor retired over the summer with no warning was even worse. 
Across the board, my classmates experienced feelings of chaos and overwhelming dread. While there were counselors available, all of it felt like too much and not enough and no solid ground to get a good footing. 
Setting up the accounts and having other people write letters was the easy part. Just push the buttons and you're on your way.  
The time consuming part of the process was actually writing the supplements. Should I write with fancier words? How many people should look over this? Does it sound good enough for this university? Doubts and stress constantly clouded my Google Drive and my judgment. 
My classmates worried too. 
"My writing supplements needed to be great since colleges are paying more attention to them," stated Anna Berry. 
Many colleges this year went test-optional, so it was even more imperative that essays were above usual standards. It not only put more pressure on applicants but in a way benefitted us because it forced us to think more thoroughly, research more carefully, and write more… eloquently. 
These were normal stresses with the college application process–figuring out deadlines, actually finding what colleges you want to go to, tracking down new vocab–the run-of-the-mill kind of questions. 
Many vented that it's harder to get resources, look at colleges, and ask questions to not only their colleges but counselors as well. 
To say COVID created some obstacles was an understatement.
One substantial manner in which COVID negatively impacted the process was, as outlined later by Anna Jacoby, "many of the schools that I applied to, I've never seen before or talked to students or professors before because tours and in person info sessions were shut down. …I really don't have a great feel for the actual vibe and attitudes of the colleges I'm applying [to]." 
Even though the process is hectic and resources are harder to get to, we forget what we have in front of us.
Colleges created virtual information sessions. Students could use 360 angle virtual tours when universities shut down and suddenly we could "visit" schools again. While it was not the same by any means, people did what they could to help applicants. 
While we were trying our best, universities were trying theirs. 
The class of 2021 didn't exactly get the luckiest hand dealt in terms of an easy college application process. Through the switch between remote and hybrid (then back to remote) to losing out on college visits to going to college seminars on Zoom, I'd say we're pretty dang resilient.
Once everyone has submitted their apps and  January 1st rolls around, we can take a deep sigh of relief and hopefully look towards surviving the rest of senior year in quarantine.
About the Writer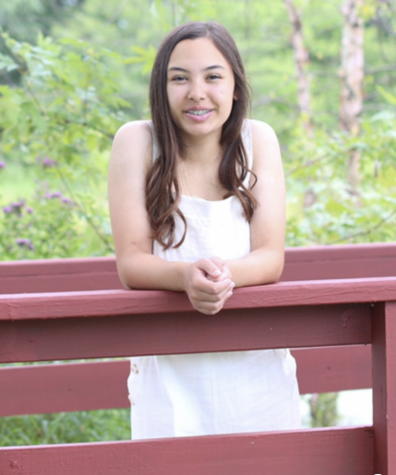 Kaitlyn Walls, Staff Writer
This is Kaitlyn's 3rd year on the news team and it's only been laughter from everyone on the team. Her niche is entertainment, specifically movies...