Quarantine Quadruple Feature
For someone who wanted to go to the movies more this year, this quarantine is about the worst thing I could have thought would happen. While stuck inside, I've actually gotten to watch a few older movies, so here are a couple of rapid fire, mini reviews for movies I've seen during the quarantine, in the order in which I watched them as well as my thoughts on them.
Moulin Rouge (2001)
From the mind of Baz Luhrman comes this musical reimagining of the 1952 film of the same name. Like other musicals, Moulin Rouge is a forbidden love story between a poet named Christian (Ewan McGreggor) and a performer/prostitute named Satine (Nicole Kidman) attempting to put on a show that will launch Satine's acting career.  One of the first things one will notice watching this movie is just how all out the presentation is–tons of camera effects, lighting effects, choreography, and fantastic set pieces give this movie a technical flare to impress along with the stylistic prowess to make this film stand out among many of Hollywood's more forgettable musicals. At first, the film was a bit all over the place in terms of tone and story. It was extremely risque in the beginning while packing a style of character movement more reminiscent to Warner Brothers Cartoons than Broadway. Once the film gets its story rolling though, it had me glued to the screen until the end. What would be a run-of-the-mill love story becomes something instantly memorable with the film's music, darker themes, and stylistic choices to create something emotionally riveting. While I find the film's use of more modern music rather than original compositions to be questionable, the unique ways they presented them (from the comedic rendition of Madonna's Like a Virgin to the extremely intense version of Sting's El Tango de Roxanne) managed to breathe fresh life into these classic tunes. A great film for any movie lover, but not something I'd sit down with the family to watch. A film that blew me away! 9/10
Crazy, Stupid, Love. (2011)
Steve Carell stars in this quirky comedy about all aspects of love, from its beginnings to its weakening, that teaches audiences to "never give up on your soulmate." Cal (Steve Carell) is going through a divorce with his wife Emily (Julianne Moore), and a man named Jacob (Ryan Gosling) attempts to teach Cal how to be good with women to bounce back. While the writing was extremely funny, I found the film's greatest strength to be in its characters, as each of them developed individually into someone wiser about love. In general, I'd recommend it if you're looking for something funny, but it's nothing too remarkable. Not a bad rom-com for sure, as it finds a good mix between humor and sincerity that sticks out. At the same time though, it comes across as cheesy at some points, and was overall more passable rather than something really special. A forgettable, but good watch! 7/10
Planes, Trains, and Automobiles (1987)
A buddy comedy starring Steve Martin as Neal Page, a no-nonsense man trying to get back home to be with his family for Thanksgiving, and the one and only John Candy as Del Griffith, a clumsy but good-natured guy, who get stuck together on a journey to Chicago from New York after their flight is cancelled. The film is extremely funny, having me consistently laughing from start to finish! However, the film also spends much of its runtime developing its characters, having Neal and Del play off of each other to create great character development, with the story adding a touch of pathos here and there to turn a decent comedy into a story worth watching. Unfortunately, I found this development to be a one-way street, with Page learning everything from Griffith, and with Griffith's character pretty much staying unchanged for the most part. Nonetheless, the film still peeled back his character's good-natured exterior to explore his darker interior in ways that aligned with the classic phrase of "show, don't tell." John Candy's performance as Del Griffith definitely takes the cake for me, but the quality of the film's writing and character development flesh it out as a must-see comedy. 9/10
Tootsie (1982)
Dustin Hoffman stars in this comedy about an actor Michael Dorsey who is so focused on the artistry of plays that he has gained a reputation as being difficult to work with. As a result, his agent (Sydney Pollock) can't get him hired anywhere. In order to raise the money needed to fund his friend's (Bill Murray) play where he's guaranteed a starring role, he creates a female persona known as Dorothy Michaels and stars on a soap-opera. He soon falls in love with his fellow actress Julie (Jessica Lange) and hijinks ensue as he deals with an increasingly large web of lies. I think the film's strongest attribute is just how flawed Michael Dorsey's character is. He tries to have everything, his career, the money, and a girl to go along with it, but he never really stops to consider those who he harms in the process and what he is putting in jeopardy. Unfortunately, the film never forces Dorsey to look inward to come out a better person and opts for a predictable ending. It's definitely got decent laughs in a few places, but it didn't leave too big an impact on me. 6/10.
This Quarantine Quadruple Feature has a good set of movies! I'd recommend all of them for anyone looking to sit down and have a good time. I think Moulin Rouge and Planes, Trains, and Automobiles were definitely the winners in this set, but these four are classics for sure!
Leave a Comment
About the Contributor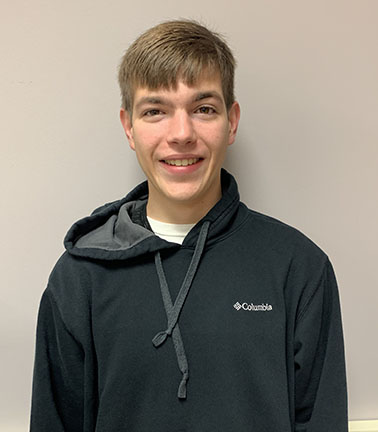 Collin Preves, Senior Editor
Collin Preves has been on news team for four years, writing everything from book reviews to fine arts articles. He has loved being on news team and hopes...