Who is Andrew Yang?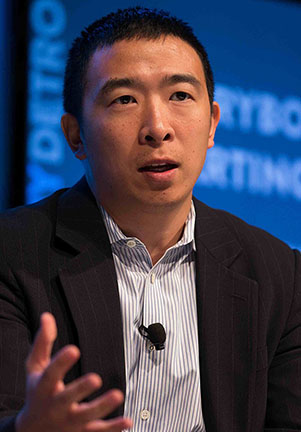 Although you may have never heard his name, the man pictured to the right is running as a Democrat in the 2020 primary election.  Born in New York to parents Kei-Hsiug Yang and Nancy L. Yang, Andrew Yang has shaped his career as a businessman and entrepreneur. One of his most significant accomplishments is founding Venture for America, a non-profit organization, which helps create jobs in struggling American cities. Four years later in 2015, President Obama named Yang an ambassador for global entrepreneurship.
What Are His Beliefs?
As mentioned above, Andrew Yang is running as a Democrat, but he distinguishes himself from the rest of the field. Yang focuses his campaign on the increase of automation that is being seen in the American economy, which has taken away millions of jobs. He worries that what he calls the "4th Industrial Revolution" will continue to integrate inventions such as Artificial Intelligence (AI) and robots into the workforce. These new technologies will continue to lessen the need for human labor in the American economy. Yang uses the fact that being a truck driver is the most common job in 29 states, and Silicon Valley continues to make progress on driverless trucks.
Yang's solution for this, and his flagship policy, is the "Freedom Dividend". This policy, which has gotten Yang a lot of attention promises $1,000 a month to every American adult.
Along with the Freedom Dividend, Yang lays out over 150 policies on his website. They range from legalizing Marijuana to decriminalizing opioids. If you want to learn more about about his policies, click here.
How Did It Start?
Andrew Yang filed with the Federal Election Commision (FEC) in November of 2017, being one of the first candidates to make his run for president official.  Starting from being virtually unknown, Yang has made quite a bit of progress. For starters, he is still in the race. He has outlasted multiple members of Congress, such as Beto O'Rourke and Kamala Harris, and is the last candidate of color still in the race.
Secondly, he has qualified and participated in all six of the Democraitc debates. The most recent debate, which took place in L.A., required that each candidate receive at least 4% in four polls that are approved by the Democratic National Convention's (DNC) criteria, or receive at least 6% in two early state polls, such as Iowa and New Hampshire, that are also approved by the DNC. In addition to the polling criteria, each candidate must have received donations from at least 200,000 unique donors, with at least 80 unique donors in 20 different U.S states or territories.
Thirdly, Andrew Yang has received a lot of money from donors…a lot. According to the FEC, Yang has raised just over $15 million! Although that is nowhere near the most for a candidate, he is first in one telling category. According to BBC News, Yang has received the most amount of money from small donors than any other candidate (View graphic to right). This shows how his campaign is truly a grassroots movement, being fueled by an ever steady stream of small donations that average just under $18. Along with the type of donors, Yang is also able to consistently pull in more and more money each quarter. In the first quarter, he raised $1.8 million. In the third quarter, Yang was able to rake in nearly $10 million. This trend suggests that he will continue to gain millions more, as the calendar year comes to a close.
How's He Doing?
Even though Andrew Yang continues to make great progress, he continues to poll in the mid to low single digits. He seems to be stuck in the lower tier of the democratic candidates. The Democratic field basically now consists of seven candidates. Although there are technically more than that left in the race, only seven qualified for the December debate. The top tier of candidates are: Joe Biden, Bernie Sanders, Elizabeth Warren, and Pete Buttigieg. The lower tier consists of Andrew Yang, Amy Kloubachar, and Tom Steyer. Along with these seven, billionaire Michael Bloomberg has recently entered the race. Although he has received decent support, his rejection of any donations, essentially prevents him from being a part of the debates. Yang proudly claims to be polling in fifth place putting him only below the top tier candidates.  A polling average conducted by RealClearPolitics has him in 6th place at 3.5%. If you would like to view the polls that make up the average click here. Overall, these statistics show that Yang has still not gained the popularity of America as a whole. Why is this?
#LetYangSpeak
The Twitter hashtag above was coined by Yang's supporters, nicknamed the "Yang Gang". Many of his supporters believe that the reason Yang is polling so low, is due to his lack of media coverage and speaking time. They created it in response to Andrew's lack of speaking time during all six of the Democratic debates that have taken place so far. For example, Yang spoke less than 11 minutes in the 6th debate. Some people probably equate this number  to his low polling numbers. However, Sen. Amy Klobuchar, who polls quite similarly to Yang, got the second most amount of speaking time at just under 20 minutes (refer to chart to the left). The "Yang Gang" believes that the media and the DNC do not give him the coverage he deserves, and instead try to push other candidates. This may be because he holds some views that contrast with the DNC. These include being critical over the Democratic party being "obsessed over impeachment." They also use a recent example of a moderator mistaking Yang for Tom Steyer, a caucasian man who is 62 years old (Yang is Asian and only 44). You can watch the awkward moment here. Although this moment might seem like an honest mistake, it reveals that the moderators clearly do not take Yang seriously and don't give him the respect of knowing him on a name basis.
What's Next?
For any candidate, the goal is to continue to qualify for debates. If you are not on the debate stage, it is extremely hard to gain support, and it is likely you will lose the race. The next Democratic debate will take place on January 14, at Drake University in Des Moines. The debate is being held in Iowa, due to the state being one of the first to hold its Democraitc caucuses. The DNC has decided to set a more demanding criteria for the January debate. The candidates will now need 5% in four polls approved by the DNC, or 7% in two early state polls. Along with the polling criteria, the candidates will also need 225,000 unique donors, as opposed to 200,000 that were  required in the December debate. Five candidates have already qualified for the January debate. These include the top tier candidates; Biden, Sanders, Warren, and Buttigieg, along with Kloubachar, the only lower tier candidate to qualify so far. Both Tom Steyer and Andrew Yang, who participated in the December debate, have not qualified yet. Yang reportedly has the 225,000 unique donors, but lacks the polling numbers. He has 5% or more in only one out of the four polls needed, and does not have 7% in any early state polls.
Now, all the "Yang Gang" can do is hope that enough polls come out in time that give him the other three qualifying polls that the DNC allows.
View Comments (1)
About the Contributor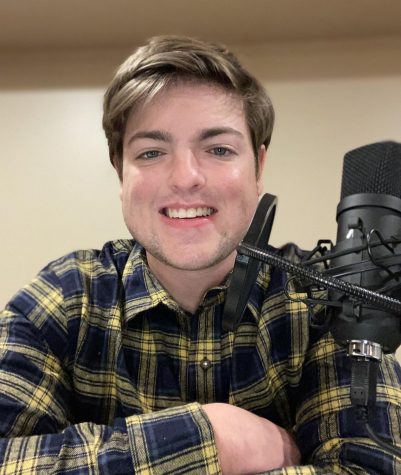 Grant Preves, Senior News Editor
Grant Preves is a senior and is on news team for his third year. He has enjoyed co-hosting The Howl and having political debates with fellow news team...