Thoughts on Upcoming Films
One of my regrets from this past year was not being able to go to the movies as much as I would have liked. 2019 was a year of interesting releases and it was a shame to miss out on it. To bring 2019 to a close and to begin my new year's resolution to see more films, I'd like to share some of my opinions on a few upcoming movies.
Bad Boys For Life: I'm sick of action movies constantly dominating the box office, but the upcoming film Bad Boys For Life holds promise. Watching the preview for this film reveals two aspects of this film that give it potential: 1) the undeniable chemistry between actors Will Smith and Martin Lawrence shown and 2) the quality of the writing. Despite seeing the preview for this film on two separate occasions, I still burst out laughing at one particular joke (if you've seen it, you can likely infer what I'm talking about). I believe this film won't be anything special, but I think it'll be a fun ride once it comes out. Releases January 17, 2020.
Dolittle: This film was entirely out of my radar until recently, and I'm not quite sure what to make of it. Dolittle stars Robert Downey Jr. as the titular Dr. Dolittle, a man capable of talking to animals. This film is mainly targeted toward a family audience, so I'm not expecting a masterpiece out of this one. I think it'll be enjoyable, but predictable, but I certainly hope the live-action nature of the film doesn't cause the animal characters to become lifeless. Releases January 17, 2020.
Impractical Jokers: The Movie: If anyone has watched TruTV for any amount of time, any day of the week, they've likely heard of Impractical Jokers: a hidden-camera TV show starring four friends that make eachother do ridiculous things for fun. The show itself is hilarious, provided you don't watch it ad nauseum, but I never thought it would make for good movie material. There's no running story involved, it's essentially a half-an-hour game of truth or dare sans the truth part. I think the interactions between the four stars are hilarious and authentic, and perhaps the film will be successful if it focuses on that. For the time being, my assessment is that you'll likely be better off watching three episodes of the show rather than watching a ninety minute movie about it. Just a hunch. Releases February 21, 2020.
Onward: Onward will be the first original, non-sequel Pixar film since 2017's Coco, and I think it'll be fun. It tells the story of two elves trying to use magic to bring their father back to life that devolves into a road-trip quest, set in a fantasy world. I've been a fan of Pixar for as long as I can remember. Films like Toy Story, Monsters Inc., and Finding Nemo defined my childhood, and I even had the pleasure of seeing Wall-E and Inside Out (arguably two of their best films) during their theatrical runs. I'm curious to see what clever ideas will come out of this film and I'm confident that it will continue the trend of heartwarming, creative films we've come to expect from Pixar. Releases March 6, 2020.
Mulan: This is 2020's biggest Disney Live-Action Remake. 2019 provided us with some underwhelming additions to the live-action series of films. I didn't have the pleasure (or rather displeasure) of witnessing The Lion King or Aladdin during their theatrical runs, but it didn't take a viewing to get the idea that these two remakes couldn't measure up to the artistic merit of the originals. I recently the Dumbo remake with similar sentiments. I'm not so sure about Mulan though. On one hand, many beloved elements of the original film are being removed. The return of Eddie Murphy as Mushu was the one thing I looked forward to in a remake, and it appears that the beloved dragon, along with many other characters, won't be making another appearance. On the other hand, it provides more screen time to focus on Mulan's character and development. On the other, other hand, the film appears to be a glorified action movie. One thing I know for sure is that next year's Mulan will surprise me in one way or another… whether that surprise is good or bad, only time will tell. Releases March 27, 2020.
Black Widow: Black Widow is a character I have thought for some time deserved her own film and it's finally here.  2019's Avengers Endgame was one of the hugeest cinematic events in history. Love it or hate it, very few can deny the impact this film had on our culture, possibly making it the most impactful of the decade. I personally enjoyed the film as it delivered a story and character development along with the action Marvel films are known for. As such, Endgame will be a tough act to follow, but I'm confident that 2020's Black Widow will have something interesting to share. Not to mention the implication of the return of an obscure Marvel villain: The Taskmaster. Releases May 1, 2020.
Scoob: Much like Godzilla, Scooby-Doo was another childhood favorite character of mine. Despite this fondness, I'm not unafraid to say that its a miracle that the great dane and his mystery solving antics have somehow maintained cultural relevance through the years. Scooby-Doo has spawned tons of spin-off movies, shows, and merchandise, and in my opinion, it's about time we put him down. Scoob appears to delve into the dane's backstory as well as the return of several fan-favorite Hannah-Barbera cartoon characters such as Dick Dastardly, but I'd expect more of the same from Scoob as we've seen from this tired out franchise for the past few decades. Releases May 15, 2020.
In The Heights: Perhaps I'm getting wrapped up in my nostalgia for our own school's production for this musical, but I think this film has potential. Most musicals in general lack a good story, with more focus put on the music and dancing. To me, In the Heights is a rare exception, because it delivers authentic characters and a heart-wrenching story. As such, I think a film adaptation has potential, provided that it doesn't take itself too seriously. I ask that the emphasis be on the story instead of all the focus being put into the music and dancing. Whatever musical numbers the film delivers will no doubt impress, so some attention should be paid to the story and how the characters are interpreted by the film's stars Anthony Ramos, Corey Hawkins, and others. Releases June 26, 2020.
Godzilla vs. Kong: Ever since childhood, I've been a fan of that big lug Godzilla, but even as a kid I knew that Godzilla movies were objectively bad. My most frequent complaint when viewing the classic 'Zilla films was that there was far too much attention given to the human characters and not enough screen time given to the monsters. I was disillusioned upon viewing 2019's Godzilla: King of the Monsters for a similar reason. The film showed so much promise, especially with CGI delivering modern, slick versions of many of Godzilla's classic foes. Seeing the trailer made me feel like a kid again! I was disappointed to find that many of the flaws held by the classic films reappeared in this one. The monster interactions were experiences one could only truly appreciate in the theatre, but I hated that they were constantly interrupted by a predictable and bland side-story. I hold some small hopes that Godzilla Vs. Kong will deliver a good cinematic experience, as one would expect Hollywood to treat such iconic and important characters in film history with more care and respect. Releases November 20, 2020.
This barely scratches the surface of films coming out, and looking back, most of these are action movies. Nonetheless, these are just the ones that caught my attention. If anything, I'd like to watch some of the films that aren't receiving as much attention or advertising. The films of 2020 may be disappointing, but who knows? Hopefully they will be better than I predicted.
View Comments (1)
About the Contributor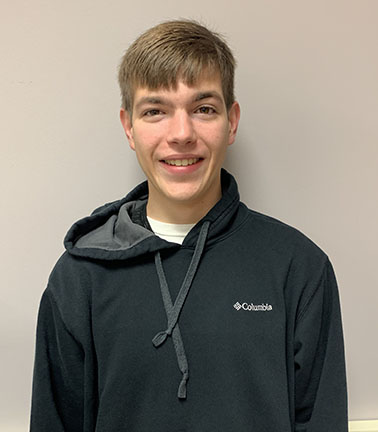 Collin Preves, Senior Editor
Collin Preves has been on news team for four years, writing everything from book reviews to fine arts articles. He has loved being on news team and hopes...