Why We Miss Summer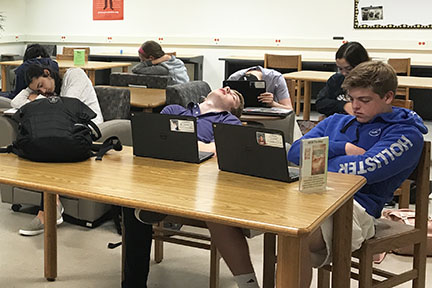 Summer is over. [sigh]
News team asked several students during the 7:00 am meeting on Tuesday what they missed most about summer. It's no surprise that getting more sleep is at the top of the list of what students at PR miss most.
"Sleeping in, waking up whenever I can," said senior Reanne Weil. In the summer Reanne usually sleeps until about 10:00 in the morning, but now for school she wakes up at 5:45.
Freshman Vedika Shaw echoed Reanne's comment too. "Being able to sleep in" and being "used to wak[ing] up and 10 or 11, but now [waking] up at 5:30" is what Vedika reports missing most.
Junior Kaitlyn Walls used the summer to put some money in the bank. "I miss working whenever I want–I like making money," she laughed.
Junior Ale"xan"der Gordon fondly remembered his trip to Los Vegas where he explored the Vegas strip and saw the Beatles show. "[It] was an amazing show! Ten out of ten [I'd] see again."
Junior Trevor Heavey was in the library when news team asked him what he missed most about summer. He said, "I like my free time, I like sleeping in, eating breakfast at noon, not having to wake up early and staying up late. I can't do these things during the school year."
Sophomore Sarah Michalak also misses being able to do what she wants. "The innate freedom to do what I want without people being able to tie things to me."
Summer can mean seeing amazing sights not available to Crystal Lake residents. "Going on vacation to Italy and Turkey and California …  I could see beautiful things that were out of the ordinary," junior Sajiv Shaw reported.
For freshman Kelsey Collins summer meant, "going on vacation and not having to worry about homework." Kelsey's family went to Japan for a month to visit family.
Sophomore Dimitri Vuyadinov said, "I miss having time to do stuff I enjoy." Dimitri enjoys reading, learning languages, and practicing music. This summer he practiced on his baritone saxophone to the Illinois Music Educators Association music to audition for State that will take place in October.
And let's not forget about enjoying the beach in the summer. Freshman Jessica Kemmnitz reminded us "the beach is great!"