Norway's Humane Prisons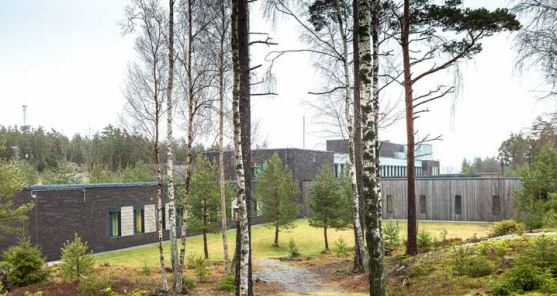 Wrought iron bars, barbed wire fences surrounding the perimeter and inmates in shackles and manacles confined to a small cramped dark room locked away never to see the light of day. This is what most people think about prisons. 
This vision of a prison, unfortunately, is true for some complexes worldwide. However, Norway has developed and tested the concept of more humane prisons.
These newer facilities come with features such as a gym, common areas, libraries, private bedrooms and some even include pools. And almost all inmates have more pleasing views of the outside world, all lacking barbed wire, solitary confinement spaces, and looming guard towers.
This new concept is designed so that the prison itself isn't a punishment to those serving within it. The way prisons are usually designed such as courtyards, telephone and radial designs prove to be efficient in moving many inmates but keep them trapped in identical corridors and hallways which can cause tension. These prison designs resemble old sanitarium and asylums rather than modern correctional facilities. Whereas humane prisons are built more like campuses and are built to be "anti-authoritarian" and try to resemble the outside world day to day life with commutes and as much physical activity in order to help inmates to create a routine similar to life outside. Meanwhile windows to outside world allow keep track of time and day. 
Humane prisons have also abolished the idea of solitary confinement which cruelly traps prisoners to a very small and desolate spaces cut off from outside connection. Solitary confinement proved to be a poor method to improve inmate behavior and, in fact, often caused inmates to become mentally unstable. 
Humane prisons have shown major promise and are beginning to appear in Sweden, Finland, Denmark, Germany, the Netherlands, Belgium, Estonia and Ireland, and perhaps even the United States soon.
About the Contributor
Alex Gordon, Staff Writer
Alex has been on News team for three years. He writes primarily about national and global news but also works and collaborates with other writers and content...