Not Even Bones by Rebecca Schaeffer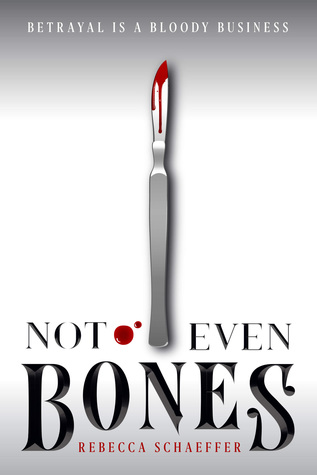 Nita's life has evolved around the walls of her apartment. She is housebound there for life and for eternity, until the next place her and her mom have to hide. Her mom is killing people and creatures illegally and they must never be caught. Nita has one job: dissect and packages up to ship out to the next buyer of that creature or human.
She has no choice of her role in her mother's crimes, she fears what she would do if she disobeyed. The one time she did disobey, the punishment was enough for Nita to remember to never disobey again.
Until… her mother brings home a living boy. She has had no social interaction with anyone besides her mother or a cashier since she was very little. So this was new this was bad and exciting. She knew not to take pity on him since her mother would be slowly dissecting him alive, but she did. And she wanted to save him but could she? Would she? And how? Was it worth the punishment that would be coming?
Flash forward– Nita is now fighting for her life, her future … if she has one now. Stuck in a glass cage in the Black Market or better known as the Dark Net being tortured and cut to pieces she is trying to get out and figure out who put her in there in the first place.
She comes face to face with a Zanny in her cage. A creature, but human, has known for feeding off others pain and who enjoys it. Now Nita is his next victim. Or was she?
There are two cages and the girl next to her is scared to death of him, who wouldn't be? But she notices the Zanny known as a kind personality and might be crucial to their escape.
This story has the ability to clench the reader and make you keep reading. This suspenseful thriller was so good – I couldn't put it down. Find out who put Nita in the Black market and if she ever helped the boy and what comes after.