Little Monsters by Kara Thomas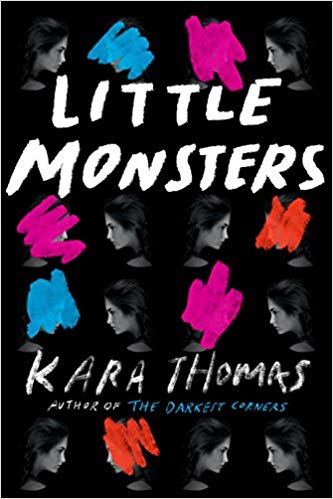 The title is not as it seems. The story is about mean girls and their horrible secret. The one that was covered up very well, the one the FBI took months to uncover. The horror and the betrayal of this story may be too much for you to handle.
As the story begins, Kacey Young lives with a distant father who seems to want nothing to do with her, but that's what DCFS ordered, to get her away from her violent, abusive mother. Although she's grateful, she doesn't like losing her old school, friends, and belongings. Fortunately, her new stepmother loves her and will do so much to protect her, and Kacey knows this is how a mother is supposed to be.
In her new family, Kacey adores her younger stepsister and is slowly getting used to a brother she never knew existed but who invites her to places, starts conversations and even cooks her breakfast.
Kacey makes a few new friends, but things soon go south when her friend Bailey goes missing and another friend is frantic but distant. Her new comfy life starts to break apart as she and her family members find themselves in all the wrong places, making the police suspicious and accusing. Will Kacey's stepmom believe that she's innocent? Who caused Bailey's disappearance and why?
This mysterious and tense story was so appealing to me right away; it drew me in on the first paragraph. Kacey's life was both unusual yet frightening at moments. Being accused for Bailey's disappearance was infuriating, leading to a race to find the truth or get put behind bars.
Recommended for those who love mysteries with crazy twists and shocking endings.