The Wasted Walkout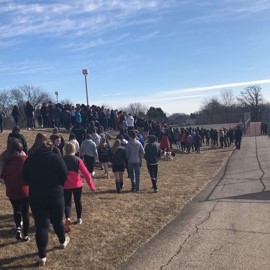 We were prepared to be united, to use our voices, and to show our respect.
March 14th: National Walkout Day. At 10 o'clock, students at Prairie Ridge walked out of their school for 17 minutes to honor the 17 victims lost in the Parkland school shooting in Florida.
It was supposed to be a silent gathering to think about the victims and speak out about gun control laws in hope to catch the Government's attention; however, it lost its purpose.
Katie Hemstreet—a PR senior who delivered a speech during the school's walkout— said that she was inspired to speak at the event because "as students we have the right to feel safe in our school" and she doesn't anymore.
Although the majority of PR students walked out for the same reason, some only walked out because they wanted to get out of class.
Since this event was organized to honor the lives lost in the Parkland shooting, one of the requirements of the protest was to be silent for 17 minutes: 1 minute for each victim.
Instead of showing respect and treating the event with the seriousness it deserved, some students talked during the silent time slot. There will be time to talk in the future; those who talked should have shown more respect for those who lost their lives and their families.