The Last Jedi: More or Less A Decent Film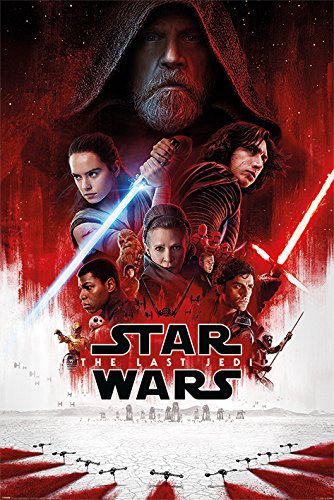 The Last Jedi was a very highly anticipated movie of 2017 and follows a small rebellion's attempt to put an end to a galactic empire. However it hasn't gone without a little backlash from fans. Perhaps fans expected The Last Jedi to be more like The Empire Strikes Back, but it had its own story and didn't just cut-and-paste previous storylines. Even with the unfulfilled expectations, the film still turned out to be one of the most critically received movies of that year.
In the opening scenes, the rebellion is in the midst of combat, attempting to flee the First Order, as they attempt to shake them off their trail. Although many Star wars films featured galactic battle in their opening scene, this was one of the first that I found very enjoyable and very intense. Meanwhile in previous films where the battle was cluttered and oversaw all the mayhem, it was hard to focus on it all at once. In this battle we follow a single ship or two and watch from multiple perspectives, almost literally putting you right in the action.
During the battle, we see what many considered an odd point in the film.
In what was likely Carrie Fisher's final scene — cue Superman music — what we know of the Force comes into question. Many have mixed opinions on what happens, but last I remember, there was never a "how to be force sensitive for dummies" almanac. If only her last scene didn't inspire so many questions.
As the rebellion fleet escapes meanwhile being hunted by the First Order, we return to Rey (Daisy Ridley) as she has found Luke Skywalker (Mark Hamill)  Hamill does a great job playing a now cold and stubborn Luke Skywalker from age. The introduction of Luke and Rey is a humorous exchange between the two showing the contrast they have and how their chemistry makes for great comedy.  Although many people didn't like Luke's new attitude, it was still a fitting act following the now aged character.
As we return to our heroes as they narrowly attempt to keep the First Order off their tails. We meet Finn (John Boyega) and Rose played by (Kelly Marie Tran). They both soon devise a plan throw the First Order off their trail and escape to safety. The plan overall made sense, however it was little interesting and had a disjointed side mission vibe to it, and true to its word it did, and was rather irritating when in the way of interesting and important scenes. Throughout this part of the film we watch a back and forth between important scenes and Finn and Rose's side mission. However, the important scenes were still featured but were just irritably interrupted numerous times for chases and a rather pointless space casino scene.
However, one particular part of the movie I found most interesting was Rey's odd connection to Kylo Ren. It continuously reoccurs multiple times throughout the film, but what is taken from it is a sense of foreshadowing that may major in future movies to come.  These scenes however seeming odd bring a new fascinating ability that may progress into a way for audiences to see a better contrast between our protagonist and antagonist.
Back on the remote planet, Rey leaves, while Luke later encounters Yoda's ghost, Yoda brings up a major thinking point as he explains the difference between the Jedi's way of forgetting your past meanwhile the dark side embraces your past and failures. This moral dilemma in turn is relatively fascinating and goes to show how as the movies progress the force in turn also changes with it, continuing many possibilities in future films.
Overall this movie was good and worthwhile with only a few flaws in between, many parts were dull and brought no real purpose other than to fill time. But other parts carried great points and new meaning keeping everyone talking about the epic saga that is Star Wars for years to come.
About the Contributor
Alex Gordon, Staff Writer
Alex has been on News team for three years. He writes primarily about national and global news but also works and collaborates with other writers and content...