The Weight of Feathers by Anna-Marie McLemore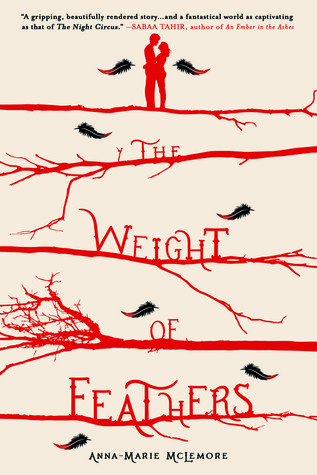 Searching for a quick romance read to fulfill all your beach-lounging, car ride, or stay-cation needs this Spring Break? Look no further than Anna-Marie McLemore's debut novel The Weight of Feathers, the perfect blend of fantasy, romance, and colliding cultures reminiscent of Romeo and Juliet.
In the town of Almendro, there resides two rivaling families in the business of traveling entertainment: The French Corbeaus, with feathers growing from the roots of their hair, find themselves at home in the treetops, where they perform extravagant shows whilst adorned with handmade wings and whimsical costumes.
On the other side of the forest are the Spanish Palomas, whose girls are born with iridescent, scaley birthmarks which allow them to assume the roles of mermaids in shows of elegant swimming routines and vibrantly-colored tail fins.
Tragedies and betrayal buried decades deep divide the families, and their competition only fuels their fire of animosity, but that doesn't stop one Corbeau boy and one Paloma girl from finding their way to one another by the hands of fate.
Cluck is a Corbeau by name, but his dark-colored hair, left-handedness, and permanent injury deeming him unfit to perform set him apart from the rest. Abused and neglected by his immediate family, Cluck seeks solace among the bows of the tallest trees.
Lace is regular performer in the Paloma's mermaid shows. She finds comfort in the currents of the deepest waters, but feels constrained by the invidious command of her abuela, whose superstitions about the Corbeaus makes her foster the most hatred.
In the midst of a horrific event that is a matter of survival, the two meet by chance, unaware at first of each other's identities as rivals. The tragedy leaves Lace with the feeling she has been cursed by the magia negra, or black magic of the Corbeaus, and seeks remedy by immersing herself in Cluck's culture. As they spend more time together, Lace and Cluck start to unveil their true selves, sharing their pasts, their passions, and their aspirations.
Cluck and Lace's budding relationship unfolds slowly, but eventually flowers into something beautiful once the teens find that they are not all that different, despite their families' sullied perceptions.
Their forbidden connection may put them at odds with their families forever, but that does not stop them from falling in love.
McLemore artfully laces hints of magic and French and Spanish culture into The Weight of Feathers, an enchanting tale of a love between water and treetops. Fans of forbidden love or magical realism will find this a satisfying read!