Divided We Fall by Trent Reedy Contends for 2018 Lincoln Award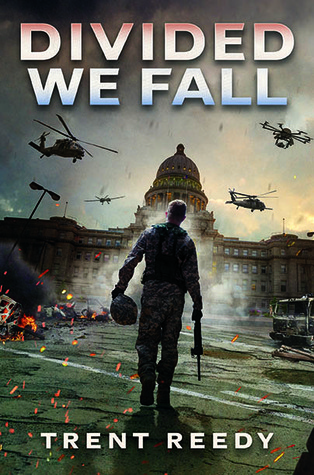 Trent Reedy, author of If You're Reading This and Words in the Dust, brings a new gripping trilogy to the bookshelves. In Divided We Fall, book 1 of the trilogy, seventeen year old Danny Wright is living the high school dream. As the star of the football team, he rides in bull rodeos, goes to parties, jams out to country music, and hangs out with his great girlfriend and loyal friends. He is also enlisted in the Idaho National Guard, where he holds the rank of Private First Class. So never in a million years did he think that he would start the second Civil War and end the United States of America. When the Guard is called in by the governor to control crowd unrest at an escalating protest in Boise, Danny assumes this will simply be a crowd control mission. However, as rocks begin flying from the crowd, Danny's gun misfires sending his unit and the crowd into frenzy, resulting in the death of multiple civilians. People are enraged and the country begins to divide.  When the president sends out a warrant for his arrest, Danny knows his life will never be the same again.
This book kept me reading from the very first page. The plot is relevant to our world today with the constant political battles between liberals and conservatives. In this book, readers see that we are not that different and that we all want to keep our beloved country the home of the free and the brave. Looking at the cover, you would think this is just another book angled towards males who enjoy football and war stories. However, my experience with this book continues to prove "you can't judge a book by its cover." Reedy creatively captures the constant bombardment of opinions, comments and information that we experience from the news and social media and the major role it plays in our daily lives. His suspenseful plot twists and lovable characters make this book a must read for anyone looking to take a step out of our world and peek into a different world that mirrors what we could end up looking like should we do nothing to stop the conflict.
I give Divided We Fall five stars and recommend that everyone give it a chance to change their perspective on the world. This book is also one of this year's Lincoln Award titles. If you read four books off that list, you get the chance to attend a pizza party, win cool prizes and vote for your favorite book! Feel free to ask any of the librarians about their favorite Lincoln Award books or for a recommendation! So get reading some Lincoln Award books because voting happens early in March!