The First to Know by Abigail Johnson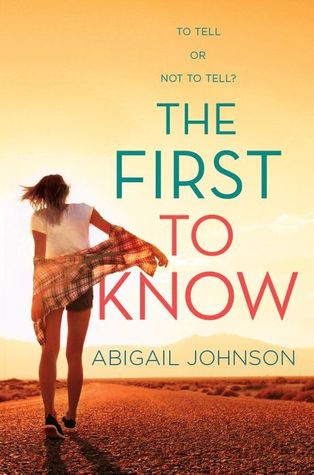 From the author of If I Fix You comes a brand new story about trust, family, heartbreak, and new beginnings.  The First to Know centers around 17-year-old Dana Fields, a junior in high school with a passion for softball. With her dad doubling as her coach and the constant pressure to live up to her all-star sister's legacy, Dana wants nothing more than to please her father. He grew up in foster homes and never knew his parents, so Dana decides to surprise him with a DNA test in the hopes of discovering some distant relatives for his birthday. What she finds, however, flips her world upside down. Instead of a long lost great-uncle, Dana discovers she has a half brother her age — living, breathing proof of her father's infidelity. When she sees the opportunity to get to know her new found brother through his cousin Chase, she jumps at it.
But the further she digs, the more she realizes that the truth has the power to destroy her family, and the further she falls into the web of her own lies. Soon, Dana must figure out how to heal the breach in her life, without losing everyone she loves along the way.
When I first started this book, I really wasn't expecting to like it very much. The premise drew me in initially, but within the first couple chapters I was already dreading the rest of the book. It showed all the warning signs of being just another cliche teen fiction novel, and I braced myself for the inevitable slow haul to the end. To my immense delight, I didn't feel this way for long. I ended up finishing the book in two days, and I honestly enjoyed every moment of it. However, do not let the cover fool you — this story is not a fluffy one. Yes, there is a healthy dose of teenage romance but that is not the main focus, and even that relationship had its darker parts.
This book gave my heart a thorough beating, then showered it with warm fuzzy feelings for a moment only to grab it and start pummeling it once again. Johnson managed to make me laugh and cry all within a single page, and I applaud her for it.
Hands down my favorite part of the story was Dana herself. Admittedly, I can be very picky when it comes to narrators, but I absolutely adored Dana. She was a wonderfully, wholly real and flawed character who showed a maturity that young adult female leads so rarely possess.
Johnson showed impressive character development in Dana. She was very realistically portrayed as a girl put into an impossible situation and had to make many mistakes in order to find her way out.
As for her love interest Chase, I was a little skeptical about their insta-love. On one hand, I appreciated that they skipped the usual "does he like me, does he not" song and dance and just got straight to the point. It was really refreshing to see two characters just plainly put out there what they wanted without a tiresome guessing game. On the other hand, I really hate relationships that move too fast with zero development. Once again, however, Johnson surprised me with how much I loved their relationship. It was cute, it was sweet, and it felt very real. Plus, I'm more than a little in love with Chase because he was kind of perfect.
The storyline was fairly drama-packed, but not to the point where it was overdone. From the more minor family drama, like her need to live up to her father's expectations, to the more serious issue of her dad's secret affair, all of it was very real and emotionally charged. I could honestly relate to Dana's need to get to know her brother, and thought that how she handled it — though faulty — was very mature. She genuinely wanted to avoid hurting anyone, and wanted to get all her facts straight before spilling to anyone else, even if it meant hurting herself along the way. She was able to grasp the gravity of her situation and understand just how horrible it was for her, but never let herself drown in self pity. The love she had for her family despite their many faults was palpable.
Overall, I was pleasantly surprised by this book and will definitely be on the lookout for anything else Abigail Johnson has in store. The story is perfect for any teen looking for love, but that doesn't mean it's for the faint of heart. Readers should be ready for laughter, tears, anger, and fear, but I doubt they'll find themselves disappointed.
Katie Thompson is a 2017-2018 member of the Teenreads.com Teen Board. This is her second review for Teenreads.com.