Before She Ignites by Jodi Meadows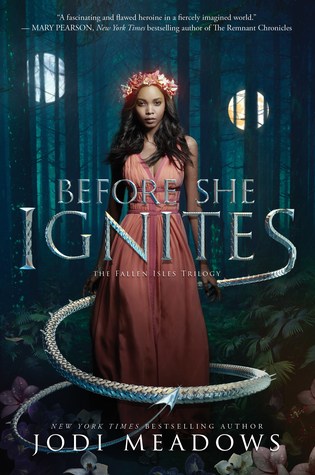 From the author of the Incarnate series and The Orphan Queen comes the first installment of a brand new fantasy trilogy about a girl condemned to a horrible fate for standing up for her beliefs, perfect for fans of Victoria Aveyard and Kristin Cashore. The story centers around Mira Minkoba, a 17-year-old girl paraded around as the face of hope for the Fallen Isles. All her life, she's been coveted for her beauty and used as a mouthpiece for her government. All that changes, however, when Mira uncovers a dangerous secret about the dragons she so loves and is sentenced to the deadliest prison in the Fallen Isles because of it. Suddenly, maintaining her facade of perfection is the least of her troubles. She must learn to do what it takes to survive–without compromising all she holds dear to do so.
This story was not an easy one for me. Initially, I was lured in by the promise of dragons and magic, as well as the rather impressive online reviews. I absolutely adore fantasy novels, and there is nothing I love more than a strong female heroine. While this story definitely contained the promised magic, it just wasn't what I expected. First though, let me start with everything about the book that went right. The original setting was something I greatly appreciated. It was clear that Meadows put thought into creating a new yet believable world for her story, from the distinction of the different islands to the explanations of the unique deities of the Fallen Isles religions. Because Meadows created such a wide range of cultural systems in the book, she was able to discuss and bring attention to the Fallen Isles' celebration of diversity, while also bringing attention to some of the injustices visible in today's society. Another piece of the story that I felt went very well was Meadows' portrayal of a genuinely flawed narrator. While there were some parts of Mira's character that I didn't really like, I enjoyed the realness of her issues.
Now I'll get into the parts of the story that didn't go so well, for me at least. First of all, despite the originality of Meadows' world, I do feel that there were some areas that could have been further developed. There were a couple technical areas of her worldbuilding that just didn't make sense. It was like Meadows just couldn't decide if her world was going to be modern or not — they had running water, anxiety pills and medications, and developed makeup products, but they had no electricity and their only mode of transportation was either by horse drawn carriage or ship. Secondly, the pacing was far too slow. This book took me forever to get into. So much of the book was the same initially — Mira's in the Pit, Mira's in the dark, Mira is scared, Mira is scared and in the Pit in the dark. It just took far too long for me to actually start caring about what happened in the book. I was also rather disappointed in the dragon element of it. Now don't get me wrong, there were plenty of dragons in the story. Unfortunately, most of it was just talk about dragons, not Mira's actual interactions with them.
Probably the biggest problem I had with the book was Mira herself. One of the things that had originally drawn me to this book was the discussion of mental illness, specifically OCD and anxiety in Mira. However, I found this area to be extremely lacking. Yes, Mira did suffer from panic attacks. Yes, she did normally take medication for that. And yes, she did tend to count compulsively. But, it just never felt consistent. Her "counting issue" showed up sporadically at best, and her panic attacks were almost more talked about than they were actually experienced. Not only that, but I found Mira's character to be somewhat shallow and irritating. Now before I start on that, I completely understand why Meadows made her this way. Mira was raised to believe her beauty was all she had, and had been pampered since birth. Add that in with her mental health issues, and you have a fairly psychologically damaged girl. I get this, I do, but it really made her hard to like sometimes. In life or death situations she'd be worried about moisturizing, her biggest fear was her crush looking at her scar, and somehow not being able to wrap her hair in silk at night was her greatest concern whilst in prison. Mira was vain, she was naive, and her strength was almost more accidental than intentional. Although I understood it, I didn't necessarily enjoy it.
Overall, the book was enjoyable, but I feel as though there is a lot more work to be done to improve upon it, which hopefully we'll see in the next books of the trilogy. To lovers of fantasy, I would say give this book a try, and to all my romance readers, there's a little something in this story for you as well. However, if you're in search of a one night thriller or the perfect narrator, I'd suggest looking elsewhere.
Katie Thompson is a new member of the Teenreads.com Teen Board. This is her first review for Teenreads.com.