Falling in Love with Railhead by Philip Reeves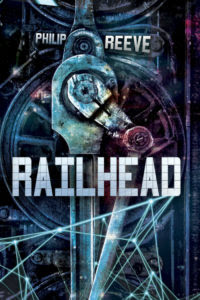 Earlier this year, the library at Prairie Ridge offered a selection of books they described as "Blind Date Books." The idea was that students could go choose a book to go on a blind date with just by knowing a small description printed on the concealed book. Students would then read the mystery book and hopefully really love it.
I went on a blind date with Railhead by Philip Reeves. And it was extraordinarily enthralling.
When I first picked up my choice for my blind date, plain white paper enclosed the book, and a singular paragraph describing the plot had been pasted on the front cover. It read "I like to travel so join me on a journey through the galaxies. If you are not careful I may even steal your heart."
My first impression? Intriguing, but not something I would normally pick up off the shelves.
I checked it out anyways, at the urging of my friends. I rushed back to my table in the library for the reveal. What story had I just committed myself to becoming engrossed in?
I already knew the book would be amazing as soon as I saw the cover. Filled from corner to corner, edge to edge, with entrancing galaxies, and printed across the middle in steely gray letters: RAILHEAD. I was already hooked. A few hours later, the chance finally came for me to get my first glimpse into the life of Zen Starling, the small town thief and "railhead" from Thunder City that nobody expected anything of.
From that moment forward, Zen's world encompassed me fully, where we stepped aboard the rails and discovered the Great Network, where sentient trains carry passengers across the Network. We rode through K-Gates and encountered maintenance spiders, motorik, station angels, and Hive Monks. We met new people and learned new things each and everyday.
I fell in love with the characters: Zen and Nova and Flex and Myka and Raven. It was unlike any sci-fi story I had ever read before and the details of the storyline brought it all together. As I flipped the back cover closed just days later, I realized that my time journeying with Zen on his quest had reached its end, and that I would have to come back to the harshness of reality. I hurried to my computer and found that, to my greatest delight, a sequel existed!!! I had to get my hands on it so that Zen's story wouldn't end there.
Unfortunately, the library didn't have a copy of the book yet, so I would have to wait. The next morning, I trudged into the library with mixed emotions. Distraught about not being able to immediately continue the story but also glad that this little-known literary treasure would be returned to the library shelves, where it would wait for its next passenger to take a ride on the rails.