More Time to Enter Logo Contest
Low student response factors into decision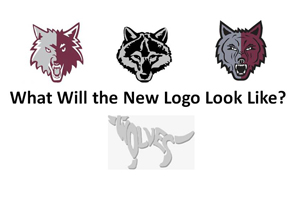 What if you could have an impact on your school that would last a lifetime? If this sounds at all  interesting to you, then I encourage you be a part of the Prairie Ridge wolves logo contest.
Doesn't PR already have its own logo? Yes and no – PR has several different logos all centered around the wolf theme, but no one official image. Whereas CLS has the Tiger and CLS has the crocodile, PR has different logos for its football team, its baseball team, its soccer team and so on.
A few years ago CLS got into some controversy with their logo and another Florida school. The process that CLS went through to come up with a different logo impressed others in D155 and set sort of a precedent.
With this in mind the administration challenged PR students last fall to design a new wolf logo. Now the contest is back and the new deadline for submissions is April 4th, right after we get back from spring break. Are you as confused about this as I was? To get answers to my questions, I talked with our principal Dr. Steven Koch.
One of the first things I wanted to better understand was if we already had the contest once this year, then why are we going through this all over again? There was a low student response to the contest the first time, and the administration wants more students' input before they make a decision.
You might be wondering how the contest this time is different from before. Dr. Koch seemed to feel that the technological  requirements for designing the logo might have possibly put off many from entering, contributing to the low response. This time around there are little to no restrictions, whatsoever, but of course it still has to have something to do with a wolf.
Be aware you wouldn't be able to keep whatever logo you create. Here is the Copyright Waiver which explain this in more detail.
After the deadline April 4, the selection committee, with representatives from faculty, staff, coaches, and student leadership will choose one of the logos. Then a private firm will take that idea to make a final version. PR students will get to see the results this school year before summer starts. Once the logo comes back, it will be used on everything: letterheads, uniforms, banner, and so on, for years and years to come. Here are the Contest Official Rules which talk about this in more detail.
For more information on this contest, there is some information on the PR homepage, also Twitter, and other local media (like Patch) Even if you don't want to submit anything for the contest yourself, you can still help spread the word.
We really have a great opportunity here to be a part of something that will have an impact on this school for a long time. You never know unless you try. Don't miss out on this opportunity.
Dr. Koch hopes that a lot of students will participate to provide the selection committee with many options. Whether it's a current design or something new, whether it's submitted by students or adults, ultimately, the best logo will win.
Leave a Comment
About the Contributor
John Williams, News Reporter
Sophomore John Williams likes covering opinion, arts, feature, political, and news stories for PR Wolf Prints. His favorite sports teams include the Bears,...