2013 Abe Nominees Reviewed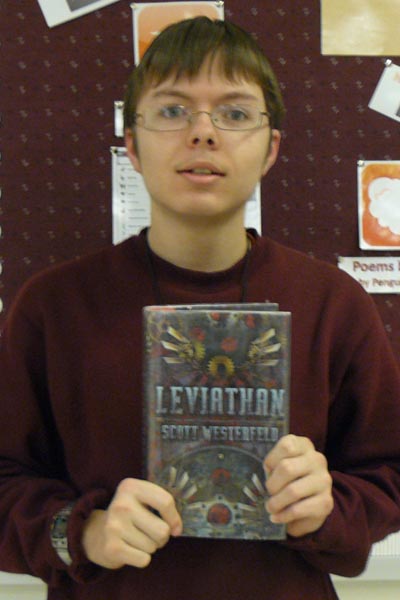 Since the 2013 Abraham Lincoln Book Award voting occurred at the end of  last month I thought it would be interesting if I reviewed some of the Abe-nominated books I read. The Abe Lincoln Award is a reader's choice award voted on by high school students in Illinois, who have read at least four of the 22 nominated titles.
I read Clockwork Angel by Cassandra Clare, The Help by Kathryn Stockett, Ship Breaker by Paolo Bacigalupi, and Leviathan by Scott Westerfield.
Title: Clockwork Angel
Author: Cassandra Clare
Series: Infernal Devices
Published: 2010
Genres: Young Adults, Fantasy, Romance
Pages: 448
Summary: Clockwork Angel is the first book in the Infernal Devices series. It is the story of Tessa Gray, a 16-year-old girl who goes over to Victorian London to go live with her brother, Nathan, only to find him missing. In her quest to find her brother, she is imprisoned with the Dark Sisters for six weeks until Will rescues her. He takes her to live with him and his other friends who are all Shadowhunters, people who hunt vampires. This book is the story of how Tessa goes to work with the Shadowhunters while they look for Nathan and fight vampires and other demons
Review: Overall I thought this was a good book. For the most part I felt like I was reading a mystery. Near the end of the book I felt that it was a little boring and drawn out. If you liked reading the Twilight series, this would be another good series too. I might read the sequel,Clockwork Prince.
Rating:  7 out of 10
Title: The Help
Author: Kathryn Stockett
Published: 2009
Genres: Novel, Historical Fiction
Pages: 464
Summary: The Help is the story of three women living in Jackson, Mississippi in the early 1960's. Two are African-American maids, Aibileen and Minny. The other is a college graduate, named Skeeter, who lives with her parents and is trying to "get a life." This is a story about overcoming racism and prejudice while believing in yourself as the three of them work together to write a book. Their book is a collection of stories from different African-American maids about what it is like to work as maids in The South during the early 1960's.
Review:  I felt this book was a nice change to the usual fantasy and action novels I read. This book helped me to try and understand a little better what it was like to be an African-American in the early 1960's and the beginning of the Civil Rights Movement. The Help made this period in American history come out of the textbook or museum alive for me. I look forward to seeing the Oscar-nominated movie version of this captivating book.
Rating:  9 out of 10
Title: Ship Breaker
Author: Paolo Bacigalupi
Published: 2010
Genres: Young adult and Survival
Pages: 326
Summary: Ship Breaker is set in a time in Earth's future in which everything is bad or unpleasant. The story is about a boy named Nailer "Lucky Boy" Lopez. He has lived in Bright Sands Beach his whole life, stripping copper from old oil tanker ships off the coast. When a luxurious ship runs aground, Nailer finds a survivor aboard, a rich girl who can offer him a better life. This is the story of the decision he makes and consequences that come with it.
Review: When I first read about this book I was curious to see how they would represent earth in the future. I was a little concerned that it would be boring when I read that it was about a boy on a ship. Once I read the book, it turned out to be better than I expected. The unknown as to what was out there in the world added some mystery to it. The personal struggles that Nailer goes through within himself were at the heart of the novel's plot. This book, I think, was for the most part slow. I am not as encouraged to read the spinoff to this book, Drowned Cities, which picks up with Tool's storyline
Rating:   6 out of 10
Title: Leviathan
Author: Scott Westerfeld
Illustrator: Keith Thompson
Series: Leviathan Trilogy
Published: 2009
Genres: Steampunk, Biopunk, Alternate history
Pages: 448
Summary: Leviathan is the first book in the Leviathan Trilogy. It is set in an alternate version of World War I in the year 1914 on the continent of Europe. The war is between the British (Darwinists), who genetically fabricate living creatures, and the Germans (Clankers) who use mechanized war machines. The story narrator switches between the two main characters, Aleksander and Deryn. Aleksander is the son of the Austrian Archduke Franz Ferdinand. Deryn is a Scottish girl who disguises herself as a boy to get into the British Air Service with her brother. In this story their paths cross during the war, and they must work together to accomplish a common goal.
Review: I really enjoyed this book, and it wound up being the book I voted to win the Abe award. When I first heard it was a steampunk book I decided to force myself to read a type of book I was not familiar with. I knew very little about steampunk before this and I am glad I read it. This was a fun book to read. The pace and the action of the book were just right. For the most part this was a very mysterious book, as the two main characters both keep big secrets from the other. This was a book where I felt I lost myself in it for most of the time. I was disappointed with the ending of this book, however because I really liked the imagined universe, I still gave it a high rating.
Rating:   9 out of 10
On Wednesday, March 13, the students at Prairie Ridge High School voted for their favorite Abe-nominated books during a voting party held in the library. Here are the results: In 3rd place was Little Brother by Cory Doctorow. In 2nd place was Dark Song by Gail Giles. In 1st place Leviathan by Scott Westerfeld tied with Thirteen Reasons Why by Jay Asher.  On March 22 Thirteen Reasons Why won  the statewide 2013 Abe Lincoln Award.
Here's the list of next year's books for you to get started as soon as possible.
Leave a Comment
About the Contributor
John Williams, News Reporter
Sophomore John Williams likes covering opinion, arts, feature, political, and news stories for PR Wolf Prints. His favorite sports teams include the Bears,...