The Gray Wolf Throne by Cinda Williams Chima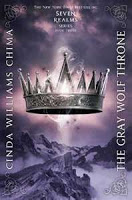 New York Times best-selling author Cinda W. Chima does it again! She brings the characters to life in this new and thrilling tale filled with adventure, danger, and a hint of romance. You might recognize her as the author to The Warrior Heir, The Wizard Heir, and The Dragon Heir. But this book is the third in Chima's Seven Realms series and will make you want to stay up all night to finish it (I know I did).
This story starts with the wizard Han Alister finding his old friend Rebecca Morley, who he thought was dead, in a bit of a fix. Rescuing her from the jaws of death and putting himself at great risk, Han soon discovers that Rebecca isn't who he thought she was. In fact, her name isn't even Rebecca. Hurt and betrayed Han struggles to come to terms with his feelings towards "Rebecca." Meanwhile crown princess Raisa ana'Marianna fights for her right to the throne and needs Han's help to get it. But can she trust someone who hates her with their entire being? Someone who blames her for their mother and sister's death?
Filled with suspense, danger, and the rise and fall of relationships, Chima makes it hard to put down her third book in The Seven Realms series. Only having been released at the beginning of October, The Gray Wolf Throne is still relatively new. Originally it was to be the last in the series but Chima decided to make her fans wait just a little bit more for the fourth and final book. I highly recommend this series. I love a good adventure with a splash of suspense.
I have one question for anyone who reads The Gray Wolf Throne – who killed those wizards?