Maturity Hits Blink 182 Like a Ton of Bricks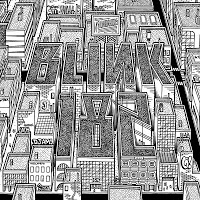 On September 27th, 8 years since the release of their last, self titled album, Blink 182 bounces back into the mainstream with the release of their 6th album entitledNeighborhoods.
Immediately upon listening to "Up All Night" and "Hearts All Gone," it was clear that the album would not contain many former themes which included mindless teenage angst and foolish juvenile antics acknowledged on albums such as "Dude Ranch" and "Enema of the State."
On Neighborhoods, Blink tailored their writing to struggles with life, love, and adulthood, showing their overall maturity boost, and completely changing the overall timbre of the music, meaning, a darker overall tone that lingers amongst songs like "Natives," "Hearts All Gone Interlude," and "Hearts All Gone."
PR student George Wood concurred by stating that "[the album] is a lot more somber and gritty. The album is very different from old Blink but it's good music."
Unfortunately, not a single song on "Neighborhoods" contains the delightfully raunchy sound of older songs like "Dammit" and "Dysentery Gary," a very risky move that prevails in the end by producing a gloomy punk sound that may or may not attract long time fans.
Anne Marie Roberts, an avid listener of the band, claims she "like[d] it a lot! [She] likes how they made it really different from the rest of their stuff. Good work."
Tyler Kriete also decided to give his opinion: "I think it's a great record. It's got everything from power chords to wicked drumming from Travis. The synthesizers may throw off long time fans, but it's great to have Blink back."
Overall, the change in pace for the band seems acceptable, but issues with the album are definitely evident. One in particular is Tom Delong's voice. Having been torn to shreds for years, his singing puts an awkward tonal blend between Mark and him. This is nothing new for devote Blink fans, but may put off newcomers looking for fresh music.
Another dent is the album's overall length, and like not enough food at the dinner table, leaves listeners craving for more at only 36:34 minutes. This insufficient amount of music eliminates many opportunities for expansion on creativity, and disappoints copious patient fans waiting for so much more.
But aside from the rough edges of the album, it is worth a try. It still contains Travis Barker's furious drumming that never fails to entertain, and a few enjoyable singles that you'll sing in your car for months to come. 7 out of 10.
About the Contributor
Mark Walters,
Senior Mark Walters has been writing music reviews for Wolf Prints for a year now, and is hoping to make this final year his best one.  Other than music...