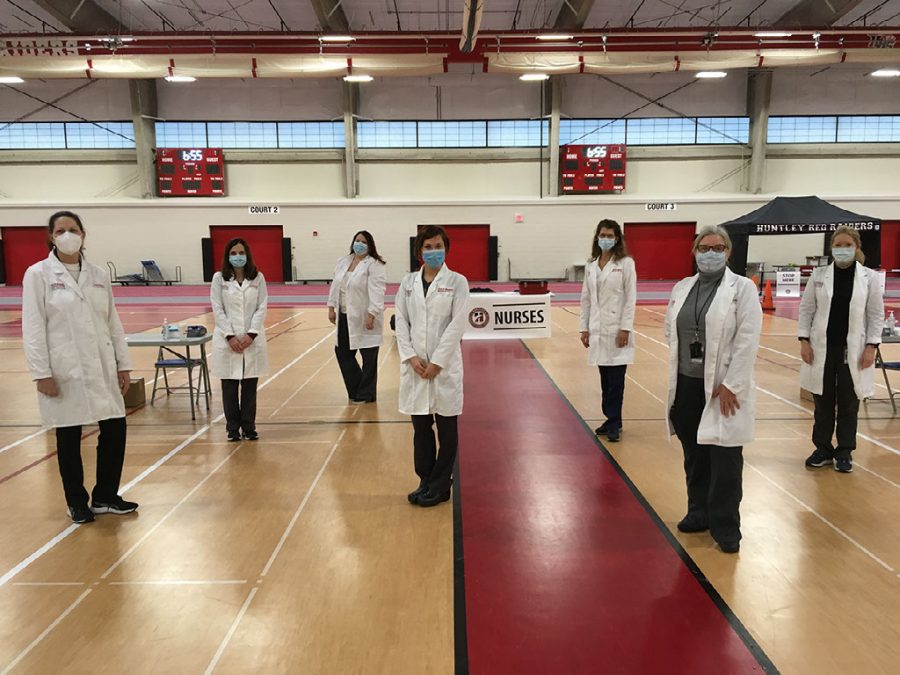 D155 Communications
There were surely smiles behind the masks of administrators on Tuesday night when the school board reviewed the drop in McHenry County COVID-19 positivity rates and the distribution of vaccinations to teachers on February 12th. 
At the District 155 school board meeting, Superintendent Steve Olson stated that "the [COVID-19] positivity rate [of D155's zip codes] has dropped dramatically to 4.33%," a stark contrast from January's positivity rate of 8.07%. He did note that number of cases was higher than what is ideal, but the concluding summary of the information presented was unquestionably optimistic, with Olson calling this progress "a move in the right direction" and "something to build on," and board members also saying that this data is "great to see." 
However, the evening's praise was not reserved only for the dwindling positivity rate. The vaccination of D155 staff held significant time in the minutes of the meeting, many of them spent solely on commending the efforts of all involved on February 12th at Huntley High School. 
Jay Sargeant, the Assistant Superintendent of Human Resources, had nothing but good words for Huntley High School and the staff who made it all work, saying it was "like a well-oiled machine" and the entire process was "ultra efficient." There was a special emphasis placed on the efforts of the D155 nurses, Sargeant noting that they "were instrumental" in helping successfully vaccinate about 3,500 people in two days. 
The meeting's end to the discussion of these topics was, once again, a positive note, Assistant Superintendent of Educational Services Scott Shepard saying, "I really believe that what we're going to come out of this COVID experience [with] is potentially a lot more opportunity for our students" in a demonstration of the good times that certainly seem to have the potential to be right around the corner.