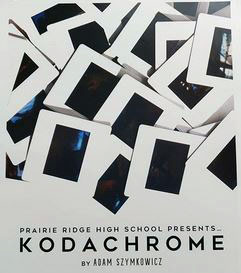 Fall Play Poster
It's October, which means PR's fall play is fast approaching. In fact, PR's latest fall play Kodachrome is opening this week! Kodachrome has been in production since school started, and beginning on Thursday at 7 PM, the fruits of the labor of its cast and crew will premiere on-stage.
In sharp contrast to last year's The Complete History of America Abridged, Kodachrome is a more dramatic play with more subtle humor. The play's plot follows Suzanne, a photographer who shows the audience around her hometown. She introduces the crowd to a variety of characters including a hardware store owner, a librarian, a young couple, a florist and others, each of them going through their own struggles and love problems.
The play itself is similar to 2016's Almost Maine in that it focuses on love, but the play delves deeper into more interesting topics. The play not only discusses love and its problems, but the play contemplates death, disappointment, and other existential ideas about life. While it won't leave you rolling on the floor laughing like last year's fall play, it should certainly make you think about life and its problems.
The play will be showing on three days this week: Thursday, Friday, and Saturday at 7:00 pm. Tickets will be on sale this week, so get one while you can and plan to attend with a friend!
Subscribe to the PR News Team on YouTube where you'll see Neha Konjeti's first Truth or Dare for this year, starring the cast of Kodachrome and its director Mr. Dusenske. Break a leg, all!