Teacher Feature: Mr. Low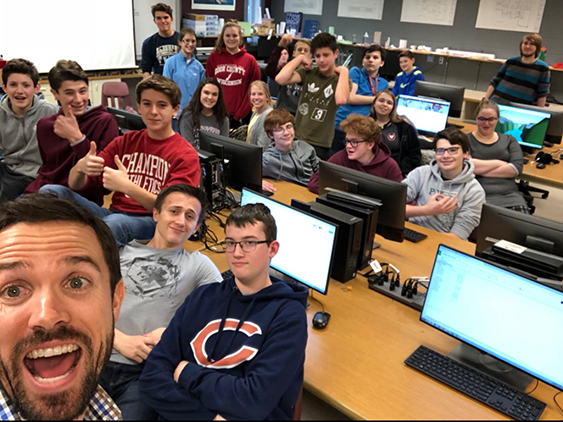 Hello! Happy Halloween to all who celebrate!! Today, we have another teacher feature, this time with the wonderfully eccentric Mr. Low!
Mr. Low is a family man at heart, and he loves his 3 children and dog (Bentley) equally. As an extension of that, he is immensely proud of his students, and finds it hard to choose a favorite class for each one he teaches is different. As an engineering teacher, he loves guiding his students through real world problems, and is filled with pride when he sees their growth.
He had decided to become a teacher when was in high school. He always enjoyed his industrial classes and he agreed with his instructor who had suggested he pursue teaching.
Something that is very important to him are sincere and well founded relationships, and he is glad that the phone policy exists for the reason that his students are bonding in their free time. Even though the technology in the world is ever changing, he can't help but realize that his students do want to develop sincere relationships, and he finds that to be enlightening.
One of his favorite projects is The Rocket Project, with his Technical Design and Drafting class. The 5th photo captures said project.
His students are truly capable and do work on making improvements wherever they can. His Advanced Design Student this current year renovated the lab, a project they chose to take on for they look for problems within the lab, the school, and our community. The final two photos are a before and after of the lab.
All in all, Mr. Low is a pretty chill guy who can teach you to solve problems. Find him on Instagram: @nlowpr
Any suggestions on who should be featured next? Let us know the in the comments!
Originally posted to Instagram: @prwolfprints