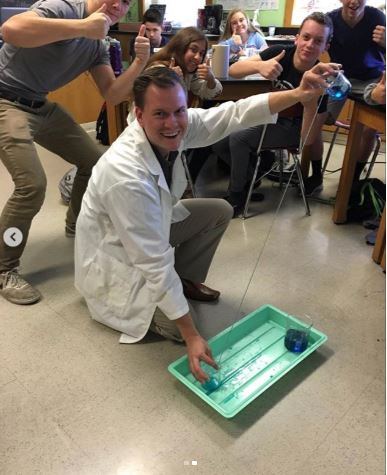 This week's teacher feature is everyone's favorite… Mr. Janshego!
Mr. J became a teacher so he could help students realize and understand "the importance of science" and just how much fun it can be!
His favorite part about his job is getting to work with new students every year and "collaborating with people who are willing to push boundaries." Waking up at 5 am, however, is the part of teaching Mr. J says he dreads. His patience in the morning could fool us from this fact though, and his energy, he says, has to be able to "compete with" the freshmen he works with everyday.
Furthermore, his most "eye-opening experience" was at the beginning of his teaching career working in Detroit, Michigan with kids from "poverty-stricken areas."
Fun facts: 
1. Mr. J's favorite food is spaghetti
2. His favorite color is forest green
3. His two dog's names are Roxy and Atom