FIRE by Kristin Cashore Lights Flames of Excitement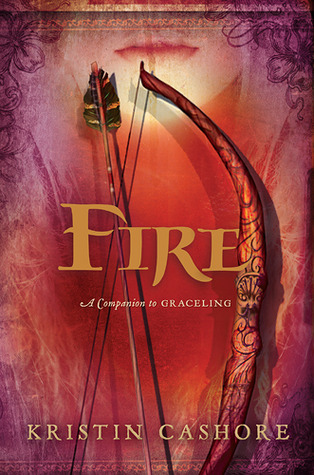 New York Times bestselling author, Kristin Cashore, plummets back in time from her first novel, Graceling, venturing into the land beyond the steep mountains lining the well-known seven kingdoms.
While it is not necessary to read Graceling to understand Fire, or Fire for Graceling, fans of Cashore's tales of adventure and romance will fall deeply in love with the novel, Fire, an alluring tale of war, love, and lies.
As the novel begins, readers feel the sense of isolation that Fire felt, living far away from those who would cause her trouble. She has felt the same control from her Father, and closest friend, Archer for all of her life. However, as the plot thickens she begins to take control of her own life and unclench the claws of the stereotypes being pushed on her.
Fire is a girl who has grown up beneath the shadow of her father, part man, part monster, resulting in her own monster blood. While her beauty is a breathtaking sight, it can cause both men and women to feel hate for her, instead of love.
The isolation of her youth resulted in the world's slim knowledge of her. However, this did not stop people from fabricating their own ideas about her, stories that immensely reflected her father's personality. However, Fire did not believe in what other monsters did; even if she was seen as evil, she was not her father. It was not until a request from a  far off kingdom brought her back to the reality of her father that she realized the defining line between them. As the novel unfolds, Fire begins to learn that her power goes beyond causing longing, grief, and agony, and realizes that it can also bring relief and peace.
The path to self esteem is a common theme with Graceling. Cashore does an amazing job at writing coming of age novels that resonate deep with those who have experienced such struggles and joys first hand.
She also dives into the love and relationships between characters, each relationship putting readers through waves of emotion, going from cute, light moments and transferring to deep, heart wrenching ones. Readers are able to see the progression of these relationships as characters begin to develop and change both their mindsets and how this affects the actions they take.
Major character development occurs in multiple characters, even the ones you might not have expected it from. Whether its accepting themselves for who they are, learning to control themselves, or learning to be less controlling, each character blossoms into a person who readers can look up to and be inspired by.
I highly recommend Fire to readers who enjoy tales of adventure and love, and those who enjoy being taken on a journey away from reality and into a magical world that somewhat resembles our own. While the length of Fire may seem intimidating to some readers, the journey of emotions and enchanting plots twists it holds is worth the length.